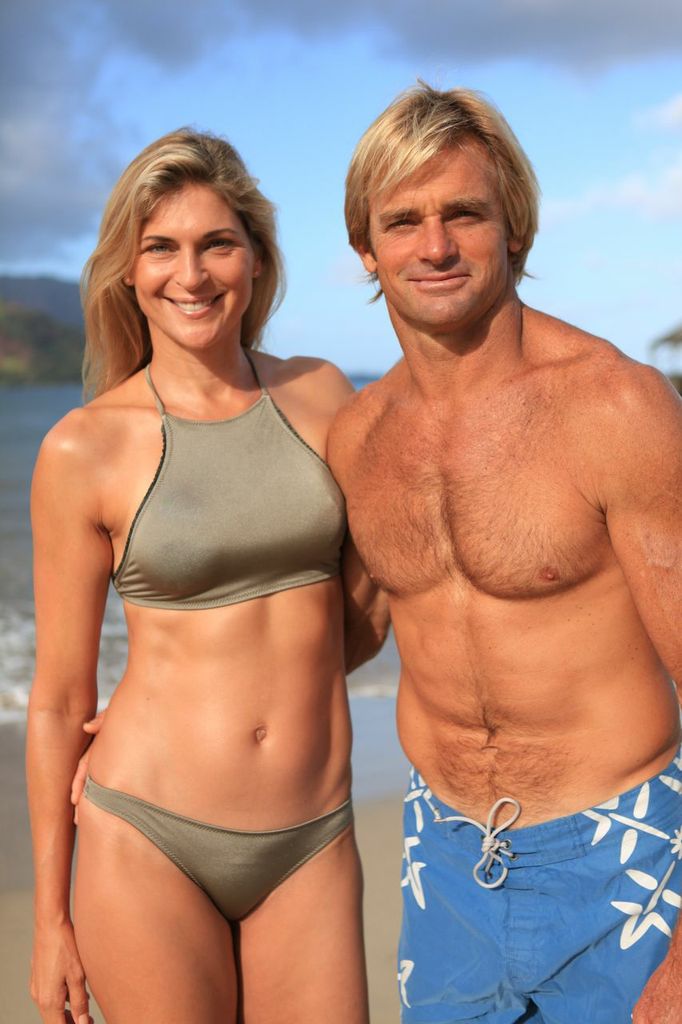 Does training with your romantic partner benefit high-level athletes and personal trainers? Get the inside scoop from NASM-CPT and pro-athlete Gabby Reece on training with her surfing-legend husband Laird Hamilton.
I recently had the opportunity to interview Gabby Reece, pro beach volleyball icon, model, TV host, author, mother, wife, and NASM Certified Personal Trainer (NASM-CPT), asking her about training with her husband Laird Hamilton. I was somewhat surprised and enlightened by her responses, but also intrigued about finding out some inside secretes to what makes a relationship last for more than 18 years.
Gabby, who is your favorite or most inspiring athlete?
"Oh, that's really easy. I think I live with one of the most talented athletes I've ever met. My husband Laird is a surfer. He's 49. He's strong, his endurance is through the roof, his flexibility is pretty amazing, and he has the capacity to deal with discomfort. He's a consummate student. I'm inspired by his ability to always try new things, he's never afraid to look silly."
"He also still performs at a really high level in his sport, so I think that says it all for me. Here's a guy that's doing it. You don't see that that often. We have people come here to train, including professional athletes who are half his age. People who play professional sports are that 1%, and in that group there's only another 1% that keep their passion for training at that high a level for that long. Usually you start getting tired, get over it, or get interested in different things. Laird is also in a sport that he has the freedom to continue. No one can tell him we're not drafting you or you didn't make the team."
Do you and Laird train together?
"I only pool train with Laird, and occasionally he comes to my circuits...which I found unusual, so not too much. We discuss our gym training and alternative trainings. I use him as a resource, to bounce training ideas off of, and as a confidant."
Does training together strengthen your relationship?
"I think everyone needs to have personal space. Everybody does things their own way. Some couples love to train together and they use that as their time together. For Laird and I, since we're both pretty strong in our personalities, we're smart enough to know to navigate our own situations and then we discuss with one another because we do respect each other."
"For me personally, and I think for him, a little bit of the combination works best so there's space and we do certain trainings together. By nature, I don't want him bossing me around and know for sure he doesn't want me bossing him around so it's better that we go into our respective training zones. And then we discuss. We share ideas. When we learn something new we share it and incorporate it how it best suits us. It's different for us since training is such a part of our lifestyle and our business, there's a lot of crisscrossing, dividing, and separating."
Gabby's response to this question highlighted a very good point. Some couples use this time to be together, but not all couples should necessarily train together or train together all the time. As trainers, we want our clients to have a beneficial and positive exercise experience. When you train couples, you'll have to adapt the training program to be able to meet each of their personal goals and abilities. Also consider if one partner is overly competitive and if the training has become a negative experience for the other partner. If this is the case, maybe separate sessions would better suit this couple.
High-level athletes have a competitive drive, and two athletes training together of this caliber may find that a challenge for their relationship. Relationships aren't about who wins or who loses. Relationships are about making each other better than who you are alone; and when that happens, that's winning. Gabby seems to have found the secrets to maintaining her strong relationship with Laird and her commitment to fitness. An uplifting bonus to this interview was hearing Gabby's respect and enduring adoration for her husband that is still evident after all these years.
For more on training with Gabby and Laird visit gabbyandlaird.com.