NASM and AFAA are stewards of what it means to be the best and brightest in fitness and wellness. Both brands are focused on building a diverse and unique community dedicated to creating a better and brighter future in the industry.
At the forefront of this effort are our Master Instructors. They are tasked with educating fitness professionals via workshops, online webinars, and other instructional forums.
What is a Master Instructor?
A Master Instructor is a leader within our AFAA or NASM family who has shown expertise in health and fitness. They hold their GFI, hold a CPT, CES, PES plus one more NASM Specialization, or a valid CPT, CES, PES, and an approved college degree.
After attending our Master Instructor Workshop and meeting all requirements, they then lend their talents to leading workshops and additional educational opportunities for those taking our certifications and specializations.
Each month we will recognize one of our AFAA and NASM Master Instructors as our MI of the Month. This month we honor NASM's Prentiss Rhodes and AFAA's Jay Guillory.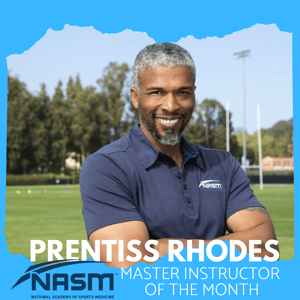 Prentiss Rhodes (NASM)-
Prentiss has been involved fitness industry in different capacities for over 20 years. Currently, he works as a Product Manager at NASM, where he studies the industry and collaborates with the team to build impactful courses for fitness professionals. As a presenter, he has taught certification and continuing education courses to many instructors and fitness enthusiasts, both domestically and internationally. Prentiss has worked as a chiropractor focused on sports injury rehabilitation and has also been a studio owner. He has also worked at one of the largest health club facilities in the Chicago area. In addition to his time spent in the fitness industry, Prentiss is a lifelong martial artist with black belts in multiple styles and competes nationally and internationally. He now enjoys life as a "Dance Dad." He believes that one of the great joys is seeing the excitement in someone who has accomplished something they never thought possible.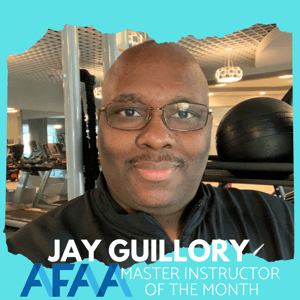 Jay Guillory (AFAA)-
As a fitness industry professional with over 20 years of experience, Jay Guillory has served in multiple
positions. As an industry presenter, he has taught over 500 certification and continuing education courses to thousands of instructors, both domestically and internationally.
In addition to presenting for the Athletics and Fitness Association of America (AFAA), he also co-authored AFAA's Certified Indoor Cycling Certification and co-developed AFAA's Group Resistance Training Specialization. Outside of presenting, he has served as a Group Fitness Manager for some of the nation's largest commercial health club chains. His philosophy is, "There is enough room at the top for all of us to sit comfortably. Fitness should not be a competition."
In the below, We Speak Episode on September 2, 2020, we asked Prentiss and Jay some questions about their journey into becoming wellness educators and wanted to share their responses here on our blog. Be sure to watch the full video for our whole discussion during the "We Speak" series with Katrina Pilkington (Wednesdays 10:30 am PST):
What are tips you would like to share with newly certified NASM/AFAA trainers/instructors:
Prentiss – "Always be a continuous learner. Never stop learning or growing in your knowledge and skills. Be ready to hustle all of the time".
Jay – "Keep learning and keep growing... teaching many classes a week, volunteering as much as I could. I looked at fitness as a business, and I wanted to learn everything, so I always kept an eye on opportunities."
… Sometimes, opportunities come from being at the right place at the right time. Find mentors who believe in you and always have confidence in being the best coach and trainer you can be through growth. Networking and staying in an educational space with other like-minded professionals, online and off, can open up doors for a future in this field.