Physical movement can be life transforming. Just ask Camden Crane, an NASM Certified Personal Trainer and Corrective Exercise Specialist. After the 31-year-old Altadena, California resident had gotten her psychology degree from UCLA, she joined Change for Change Ethiopia, helping run a home for the "street boys" in the country's capitol, Addis Ababa.
None of the 12- to 18-year-old boys had homes or parents they could go to and were considered orphans. Camden and the other Change for Change project leaders started playing soccer, lifting weights and dancing with the boys, and they began opening up and telling their stories.
Camden says, "When you connect with someone through movement, there's a trust and a bond that's formed. And it can change lives. When I got back to America, I thought, 'geez, there's really something to this.' Using sports and movement for empowerment as a holistic approach really piqued my interest."
FROM WORKING OUT TO WORKING IN THE BUSINESS
A former competitive dancer, she started doing her own workouts at local parks and at Gold's Gym in West Hollywood. People would walk up to her and tell her they noticed how different her workouts were. They wanted to start working out with her, but she wasn't a trainer.
A friend had gotten his certification and wanted to help Camden get certified. When he found out she wanted to serve a broad population and concentrate on corrective movement, he recommended NASM because of how in-depth their training was.
"I wanted something that would give me a foundation to excel as a trainer. I wanted to gain knowledge to fully understand human movement and look at the whole of a person. NASM provided a well-rounded and holistic progression that I could use with everyone from a 12-year-old water polo player to a 78-year-old who just wants to stay healthy."
To assess job prospects, Camden called different gyms and told them she was NASM-certified. Right away the gyms told her they'd hire her. "It gave me the trust and confidence that an NASM certification would open doors."
LIVING THE DREAM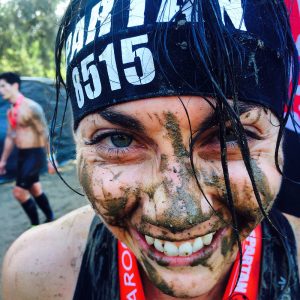 After becoming certified, Camden got a phone call offering her an opportunity to develop new programs at the Rose Bowl Aquatics Center. She created and helped lead a new strength-training program for their long-standing patron's. And in addition to personal training, she now gets the privilege of coaching the water polo and dive teams. Her clients currently vary from triathletes to people who've had double knee replacements.
"The Aquatics Center is great because I can go from the pool to the gym to the field—it offers a lot of diversity. Even when I only have a few pieces of equipment to work with, I get creative." she says.
MAKING IT FUN FOR THE WHOLE GROUP
Camden also provides personal training at Breakthru Fitness in Pasadena, a gym that specializes in group training. She teaches classes such as Pure Strength, MC3 Training for Athletes, and Row and Strength. She's also a coach for young athletes in the Parisi Speed School, working with players in sports from lacrosse to football to tennis.
"Training athletes keeps me on my toes as well as getting involved in whatever new project is available. I was just selected to complete a 10-week Bowflex challenge where I'll get to not only train the groups participating, but also be part of the transformative process. It'll help me get in the best shape of my life and build some fun new workouts."
REPRESENTING
This year Camden became an Athleta Brand Ambassador, and says it was a huge honor. "I present a fitness brand that stands for The Power of She, which I absolutely love. Empowering females of all ages to get out there, be fit, strong and confident has been an incredible opportunity for me." Her duties include helping with community events, leading in-store workouts and supporting many worthy causes.
At the end of the Aquatic Center's summer season, Camden has a closing meeting with the interns "They always ask how to be a trainer and I tell them to look on NASM's website. NASM doesn't make it easy, but they make it doable. You really have to know your stuff and that's why people trust the certification."
HEALING AN INJURY. HELPING OTHERS.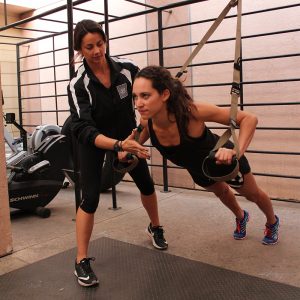 Camden's personal training approach took another turn when she had a back injury a year and a half ago. "I herniated the disk right on my sciatica because I was overtraining and certain past conditions left me with terrible muscle compensations. I had to take two months off, but in the long run, it made me a better trainer."
"I'm so much more aware of my body now. You need to take care of yourself as a trainer so you don't burn out. My injury forced me to slow down and reassess how to train. It made me more supportive of what NASM stands for. Part of the reason I wanted to get my Corrective Exercise Specialization was to help people who've been through injuries like mine."
Camden continues to expand her craft and is currently working on her NASM Fitness Nutrition Specialization.