From an Olympic athlete to becoming a successful entrepreneur and CEO, London-born Louise Hazel has been "slaying" the game of life. Louise is an English track and field athlete from the United Kingdom who's competed in four major international championships and won gold at the 2010 Commonwealth Games.

After life as an Olympian and professional athlete, Louise seamlessly transitioned into a different spotlight—hosting various sports television shows. However, she felt a calling to dive into something more challenging and adopt a profession that could allow her to have more of an impact.

In 2019, she opened a boutique training facility called "Slay." Now, as the current CEO of Slay, Louise has developed her brand to be more than just a gym—it's a lifestyle. Empowering any person who walks through her doors, but especially giving women the confidence and direction they need when it comes to taking control of their health, fitness, and overall wellness, Louise is a dominating female figure in the industry.

Here, we sit down with Louise, a NASM Global Ambassador, to discuss her love of fitness, her passion for competition, and how she encourages her clients to level up their fitness game.
Want to transform your passion for sport into a fitness career like Louise? Sign up to become a Certified Personal Trainer with NASM!
Louise Hazel Q&A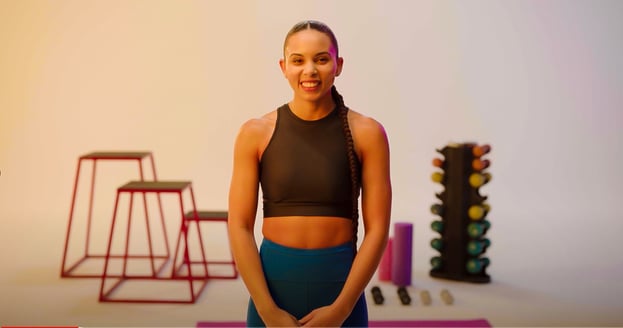 Jackie: So, I read that you started training at a young age, what was it like growing up as an athlete?

Louise: So, I started track and field when I was 10 years old. I always had a sense of direction. Unlike my peers, the peers that I grew up running with, I always knew that I had what it takes. So, for me, there was always an unwavering competitiveness. And that was really in my nature, it's in my blood. And I think it's because I grew up with two older brothers, and I was the youngest of three.

A lot of the time I've been asked to coach a lot of young children. It's not something that I love to do, and it's not something that I love to do in exchange for money. I genuinely think that when it comes to the future Olympians, it's not something that you can coach at a young age. It's just something that is within you. Therefore, it's our job as coaches to draw that out as people, and it's something that already exists [the "it" factor, the innate competitiveness].

Jackie: So, for you, did you feel like you had a particular influence that brought you to that realization? Was it your brothers that allowed you to be competitive? I guess when you realized that you had what it took, at what point did you make that decision to become an Olympian? What led you to go down this career path?

Louise: Honestly, I would say it was always a solo journey, which is quite an unusual thing. My father influenced me to try track and field because he was a runner in his youth, but he never reached a national level. It was just something that he did when he was young.

I would say it was a combination of nature and nurture. I think the nurture was the fact that I had a natural affinity for speed and power. At the age of 12, I was doing a lot of sports at school, but one of the standout qualities that I possessed was ground speed - the ability to run and the ability to accelerate. So that was the talent that I knew I had, and I was able to win at sports.

My first experiences in sports were winning experiences, and I think that is what paved the way to my future career because it was something that I innately excelled at, but also [something] that I got immediate positive reinforcement from.

I think when you're young — and it doesn't matter whether it's music, sport, etc. if you have a winning experience, then you're probably more likely to take that up in the future. As opposed to the introduction that most of us must do sport, which is not necessarily always positive. Especially in track and field, running laps can be viewed as punishment. Which is something that I think must change.

For me, my talent and passion for sport was nurtured. And that I think came from my father's side. Before I was able to drive, he would be the person that would take me to train when my training venue ended up being 30 or even 60 minutes away — which was a huge commitment in the UK. But I think he was driven a lot by my desire to be there. There was never a situation whereby [my father] had to drag me along to training or discover my talent. I was already very motivated and just very excited by the opportunity of taking part in the sport.

I'd say the final influence was seeing a poster at my school of an Olympian named Denise Lewis. She was the gold medalist in the heptathlon at the time, and I remember thinking I want to be just like that. At the time I would have been 10 years old. So, let's say 17 years later, and I'm winning the gold medal at the Commonwealth that she won. I trained with her coach in her city. So, I was able to follow in the footsteps of the greats, especially the great women that went before me.

Jackie: When you got to that place, did you feel like that was a huge accomplishment for you? What was it like to be in the same space as a person you had looked up to for so many years?
Louise: Yeah, there were two moments. The first one was being recognized as one of the best [athletes] in the country, and then one of the top athletes in the world. Also, having the opportunity to train with Denise's former coach was a huge validation for a young athlete like me.

The second thing, after I won my gold medal, it was no longer about Denise Lewis and following in her footsteps, it was about following in my footsteps, and more importantly, honoring my hard work. In 2010, 18 months earlier, my father died. So, I was hit with a lot of tragedy at a very young age that I had to overcome. And right in the middle of my first Olympic year, I didn't make the Olympics, but I won [the gold at the Commonwealth Games].

That was a real turning point in my career where I had to ask myself, what more did I have left in the can? That year turned out to be one of the saddest, but one of the most profound events of my life because it really made me hyper-focused on the gold medal at the Commonwealth Games and bringing it home, not only for me but also, I think, the memory of my father.
Listen to Louise's chat with Rick Richey on the NASM-CPT podcast
Jackie: So, going back a little bit, you had such a passion for your sport. Some say that if you love what you do, you never have to work a day in your life. Would you speak similarly to that sentiment in terms of being a professional athlete?

Louise: I would say that being a professional athlete is not a job until you turn professional. I think that a lot of athletes across the board, it doesn't matter whether it's baseball, NFL, basketball, etc. will understand the sentiment of what I mean. The day you first get a check is the day you realize it's a job. This can be an extremely sad day because when brands were looking to endorse me and I received my first contract, the days after that can feel more like an obligation than a passion. And I think very few athletes talk about this.

But it's a different feeling. You're no longer standing there with your expectations on your shoulders, you're now standing there with the expectations of everyone else and a corporate business. There's a different pressure that sits on your shoulders the day you receive your first paycheck or sign a contract as a professional athlete.

Jackie: Would you say on that day your motivation changed? Or did they stay the same in terms of what you wanted to accomplish for yourself? Or because there was all this outside pressure from a business standpoint that you kind of changed your mindset about what you were doing?

Louise: It changed it! So up until that point, I think you understand that you're a human being trying to achieve something that not many people get the opportunity to try and achieve. And the day you become a professional athlete, you become a commodity. You are now not only representing yourself and your country, but you're also representing several corporations.

In female athletics especially (and I think it's been spoken about more recently… Simone Biles being one example), there's a sentiment of being silenced by sport. For example, when you go to a press conference you are [expected] to behave in a certain way. You're not to say certain things, and you're briefed as an athlete on the right way to behave. And I think one of the beautiful things about running a business now in the US, is how American athletes can retain being human beings. They're able to play both cards.

They're the biggest advocate for their voices. And I also think LeBron James has been a real pioneer in this in terms of owning his own production company, making sure that his voice and the voice of other athletes have weight, and they have a platform. I think he's done an amazing job there.

Jackie: Transitioning towards the end of your running career, I read that you announced your retirement in 2013. Is that correct?

Louise: Yes

Jackie: However, you tried to go back and compete in 2014? But couldn't due to some health complications?

Louise: Yeah. So, I suffered from ulcerative colitis and was diagnosed in 2010. So, at the latter end of my track and field career, I was having to navigate that with training. So, I have lived with this for 13 years, but you know, interestingly, this is the first month that I feel like I've been in remission with it. However, looking back there was no way I would have been able to step out and compete with ulcerative colitis.
By the time I retired in 2013, I already felt like I'd given it everything I needed to. So, my return was a return to a single event, but I hoped to be able to scale down to just the hurdles.
Jackie: Well just out of professional curiosity, during that time did they have a team dietitian or a similar health or medical professional to help you navigate that?

Louise: It was diagnosed by private medical professionals in the UK. I was originally able to see them because that was covered for me by my Federation. Then later when I was removed from our lottery funding program, it was something I was able to fund myself. Over the years through my education, I've been able to gain a lot of [nutrition] knowledge. However, looking back, I would genuinely say [from a nutrition perspective] there wasn't any support available to me as a competing heptathlete, especially as one of the world's best. I didn't have supplements or protein deals; supplementation wasn't ever pushed on us.

It was only recommended to us when we were in high-level competition. For example, at the World Championships in South Korea, during our big layover we would get melatonin tablets and Vitamin D, and then additional supplementation within the two weeks that we were there competing. But there was no major eye on us about nutrition. To give you more perspective, in 2009, Usain Bolt broke the world record spectacularly at the World Championships in Berlin. And that night, we all went out and partied and there were platters of McDonald's because they, often, were the ones sponsoring our events. And that didn't seem bizarre to anybody. It was completely normal.

Jackie: So, I'm always curious, especially with athletes, when so much of your life is dedicated to one thing, how do you make the transition into a different career? What is the mindset you must have? And for you specifically, did you have an idea of what you wanted to do after? Or was there a long period where you were trying to figure that out?

Louise: So, my experience was, when you make that decision, you make it quickly, and you don't look back. And that's not the case for a lot of elite athletes.

I knew that I wanted to work in the world of entertainment and television. At the time I already had a sports agent and we focused predominantly on television and transitioned over to being sports personalities. In the UK, I did television shows like "A League of Their Own" with James Corden. And it was fun! It was the side of sport where you get all the [fun] without having to step foot on the track. And for me, it was the perfect transition!

Jackie: Okay, so in 2019, you opened your first boutique training location in LA, is that correct?

Louise: Yeah

Jackie: You call yourself the queen of training? And you're the CEO of the company that you created called Slay? What was the inspiration specifically behind the company? And why did you want to create it?

Louise: Well, when going to several gyms and boutique spaces in Hollywood (which were predominantly male-owned) it dawned on me that I wouldn't be accepted as a peer (even though I was a highly decorated and experienced professional athlete). And after having worked with both amazing coaches and athletes I knew that I had so much to offer that was being overlooked, and it was being overlooked purely because I was a woman. And so, I decided that the only thing for me to do was take ownership and build my own space. And that was what the gym was built out of.
Jackie: So, Slay is a female-focused gym?

Louise: I would say it's female first. And what I say by that is everybody's welcome. However, it was designed with women in mind, and it was designed to be a safe space for women. You know, I experienced what it was like to walk into a male-owned gym, and not be respected as an Olympic athlete. So how must the average woman feel every single day?

Jackie: So now that Slay is becoming more of a brand, as in it's not just a gym, it's becoming a lifestyle, what is your main messaging for the brand itself? And moving forward, what do you hope to accomplish in this space specifically?

Louise: Our main message is "Own your body transform your life". And that's really about accountability. It's about, female empowerment, and specifically taking individual ownership of who you are, where you're going, how you behave daily, and what your habits are. And it's funny, when you take ownership of who you are, and where you're going, your circumstances change, and they change quickly and dramatically.

Jackie: In your space right now, is it just you or do you have other personal trainers to help you with your clients?

Louise: When we started in 2019, it was just me. Now we have 3-4 personal trainers and another 5 group instructors.
This is what ownership affords you, it allows you to decide as to who's getting the job. And this is, I think, a real message to women in the industry who've struggled to perhaps get the opportunities that they deserve. I would quite honestly say, when you go into a job know that you're not necessarily competing against the next best woman, you're competing against the best man in the room.

For me, it's important, it's so, so important for us to elevate women as a female brand. So important. And I felt that that has been my mission from the get-go to provide opportunities for women specifically, to be able to earn more than a living wage and develop from an educational perspective, and then also to be put into locations that they might not have ever had the opportunity to step into. So, in my mind, is kind of opening the door to their potential.

Jackie: With your clients, would you say you get a range of fitness levels? How do you go about programming for your clients using your experience as a professional athlete and your current knowledge as a personal trainer?

Louise: I think for me, every person that walks into the gym is an athlete on a journey. So whenever somebody walks through the door, I'm always sizing them up in our first session and asking what kind of athlete are you? And a lot of the time, especially the general population, they don't know themselves.

And I think that's probably one of my special talents is deciphering. What's the difference between an Olympic discus thrower and an Olympic high jumper? And how are these two people trained differently? So, when I'm developing programs, it comes down to what type of athlete, body type, goals, and how to get them there given their body type, the current level of fitness injuries, etc.
Jackie: Putting the spotlight back on you, how do you train? I know that when you grow up as an athlete, it is hard to ever stop training like one. What is your training routine like now and how have you managed to change your habits, exercises, and health focuses since your days always performing and competing at an elite level?

Louise: I think I'm much more open as an athlete to try new things. When I was immediately straight out of my career, I would hit the gym and I would be doing Olympic cleans. I would focus a lot on power moves, for example, Romanian deadlifts, squats, kettlebells, bench press, cleans, snatches, and jerks. And one of the things that I've enjoyed, is improvements in strength since I've retired from sports. I still squat like a power athlete, but to be able to put 325 pounds on a bar while weighing about 120-121 lbs felt amazing. Overall, for me, the goal is sustainability and being able to just enjoy my extremely active lifestyle pain-free and injury free.

Jackie: For you, do you have to work out every single day? Or do you have more grace with your fitness routine?

Louise: Yeah, for me, there is no grace. And I think that comes from having such a high standard for myself, all the time. But also, I set that bar high for my clients. And so, I like to lead by example. And so, for me, it's like, you know, if my clients are going through a cut, let's do this cut together. If so, I think that there's something powerful when you're having a shared experience.

Jackie: In that light, do you think that in the future there is a new sport or competition you want to specifically train for?

Louise: Yes… the Slay Games!

Jackie: What is that?!

Louise: We'll have to wait and see. But anyone can sign up for it!

Jackie: Will it just be a local or a national competition?

Louise: It would be national!

Jackie: Okay so last question to wrap things up… as a former Olympian and now very successful business owner, and influencer, is there any specific advice that you would give to women wanting to come into these spaces now?

Louise: One of the things that I've noticed in this industry [fitness and health] is you don't get respect as a woman. You must take it and you must earn it. So first and foremost, you take respect. What I mean by that is you take ownership. For example, if you want to become a personal trainer, get certified. If you want to open a gym, figure out the route to the market, the finances, etc.
There is genuinely nothing that you cannot achieve when you take ownership of what it is you want. The second thing is when it comes to respect, respect is earned over time. And so, I would tell them [women] to stay in your lane, stay focused, and have a career pat