As discussed in our nutritional supplement course - Making Sense of Supplements - sometimes navigating the vitamin aisle can be a little tricky.
Even for the most seasoned of certified nutrition coaches, the endless barrage of advertisements and nutritional products described to be "the best" is never easy to ignore.
This is especially true for multivitamins. After all, it can be difficult to know what to look for in a multivitamin - or if a client would benefit from a particular concentration or not.
Let's dive a little deeper into which nutritional components you should target in the multivitamins you suggest to clients:
Pick a multivitamin that lessens inadequate nutritional intake
According to the 2015-2020 Dietary Guidelines for Americans report (1), Americans underconsume a large amount of essential vitamins and minerals. It's crucial that you target these deficiencies with additional supplementation - especially if your clients are having a hard time getting the proper amounts from whole foods.
A great way to do that is through a multivitamin!
It's important to stress that a multivitamin should not substitue a healthy diet. Look to a multivitamin as a useful way to provide additional micronutrient support - but not as a major dietary focus!
benefits of taking a multivitamin
The benefits of taking a multivitamin are manifold. As recent data suggests, having an inadequate intake of certain micronutrients may increase the risk of chronic diseases (3, 4).
Taking a multivitamin- and the nutritional gaps that it can lessen- has the potential to help decrease the following risks for certain individuals (3, 4):
Eye diseases
Type 2 Diabetes
Osteoporosis
Heart Disease
And of course it will also lessen common nutritional gaps that are lacking in our regular diets - with the exception of Vitamin D, Calcium, and Magnesium, which will often require additional supplementation.
READ MORE: Micronutrients: How Chronic Shortages Lead to Health Problems.
Commonly underconsumed Micronutrients for americans:
According to the Dietary Guidelines for America (1) the most commonly underconsumed vitamins are:
Vitamins A, C, D, and E
Choline
Potassium
Magnesium
Iron
Calcium
Fiber
Additionally, there's a surprising fact about the diets of Americans: as the American Dietic Association reported that when they analyzed the diets of 70 athletes and sedentary individuals - 3 to 15 essential micronutrients were lacking in every individual diet (2).
Also, another interesting aspect of the study to point out: athletes had more deficiencies than their sedentary counterparts (2).
Conclusion: What your Multivitamin Should Contain
For a great summation of what your multivitamin should contain, check out the infographic below!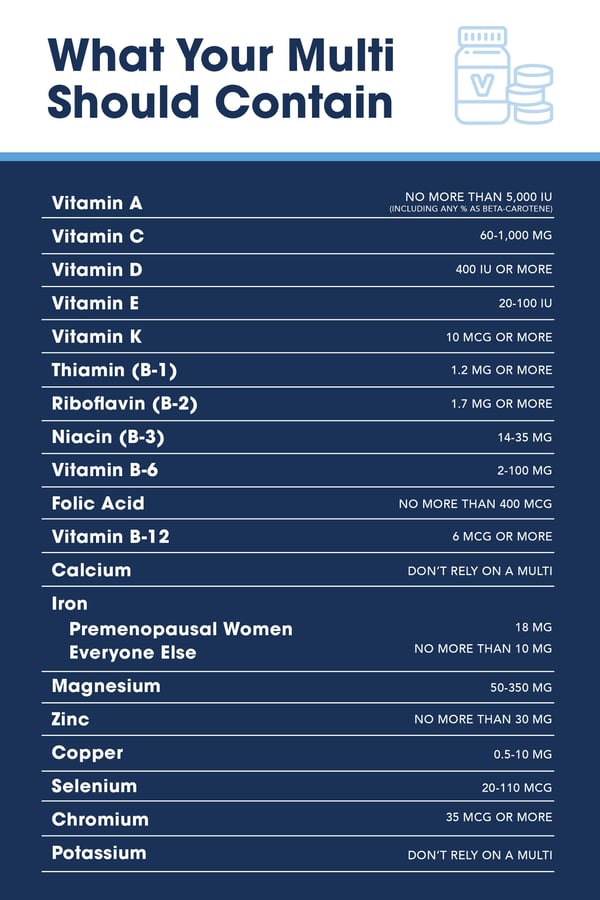 To conclude, if you found this information helpful or insightful, be sure to check out our nutritional supplement course - as well as other courses like it!
Dietary Guidlines for America 2015-2020 Report: https://health.gov/our-work/food-nutrition/2015-2020-dietary-guidelines/guidelines/
Misner, Bill. (2006). Food Alone May Not Provide Sufficient Micronutrients for Preventing Deficiency. Journal of the International Society of Sports Nutrition. 3. 51-5. 10.1186/1550-2783-3-1-51.
Bruce, Ames PNASNovember 21, 2006103>(47)17589-17594;https://doi.org/10.1073/pnas.0608757103 Contributed by Bruce N. Ames, October 6, 2006 (received for review September 20, 2006)
Angelo G, Drake VJ, Frei B. Efficacy of Multivitamin/mineral Supplementation to Reduce Chronic Disease Risk: A Critical Review of the Evidence from Observational Studies and Randomized Controlled Trials.Crit Rev Food Sci Nutr 2015;55(14):1968-1991. doi:10.1080/10408398.2014.912199