Life can be unpredictable; with the sudden disruption to daily life, many personal trainers are scrambling to find ways to deliver workouts to clients while practicing responsible social distancing safely.
Thankfully, if you know how to apply the NASM Optimum Performance Training™ (NASM OPT™) Model of exercise program design, then you can provide workout solutions for clients that require little to no exercise equipment. The Stabilization phase of the NASM OPT™ Model is ideally suited for bodyweight exercises that your clients can do from the safety and comfort of their homes.
Download the OPT™ program template here. For another helpful resource, try our mini course on at-home workouts and become a pro at designing them!
bodyweight exercises you can do with the opt
™

model

Many of the exercises from the Stabilization phase and Movement Prep component of the Strength and Power phases of the NASM OPT™ Model are all bodyweight exercises that are perfect for when clients have limited access to exercise equipment. The following workout is one that you can share with clients who may be spending time at home without access to their usual fitness facility.

To help provide a cardiorespiratory benefit, coach clients to perform the workout as a circuit, moving from one exercise to the next with minimal rest; after completing all of the exercises, they should rest approximately 60-to-90 seconds, or until their breathing comes back under control.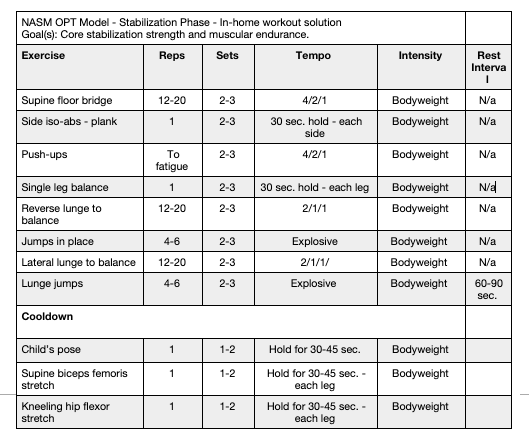 To help clients stay in shape, you can record video of yourself doing the workout and either post it to a social media channel like Instagram or Facebook, or you can record it and post it directly to YouTube and send clients the link.
Other options for working with clients include using apps like FaceTime, Skype, or Zoom that allow you and clients to see one another through an internet connection.
Check out these other great workout ideas