Originally published in the Summer 2019 issue of American Fitness Magazine.
After 15 days of supplementation with a combination of peanut husk extract (luteolin) and mango leaf extract (mangiferin), a group of healthy male university students from Spain showed improvements in exercise performance, including increases in brain oxygenation and muscle oxygen extraction, that lasted for at least 48 hours.
The 12 students received either a placebo or a low or high dosage of the supplement combination: 50 milligrams per day of PHE plus 140 mg/day MLE, with 100 mg mangiferin, or 100 mg/day PHE plus 420 mg/day MLE, with 300 mg mangiferin. Both low and high dosages were positively associated with enhanced exercise recovery, though the higher dose was more strongly associated with enhanced brain oxygenation than the lower dose. Note: This research, published in Nutrients, was partially financed by Nektium Pharma (who provided the supplements) (2019; 11 [2], 344).
For those who enjoy the flavor of mangoes, eating the fruit (fresh or frozen) may be a more enjoyable option. A review of the anti-inflammatory benefits of mangoes published in Functional Foods in Health & Disease offered this conclusion: "A large number of studies established the immunomodulatory and anti-inflammatory potential of mangiferin.
Significantly, mangiferin at different doses increased ATP levels, which can thereby intensify strength, stamina, vitality, and vigor. Overall, mango, especially mango leaf extract enriched in mangiferin . . . may have tremendous potential in mitochondrial energy homeostasis, endurance, and exercise performance" (2018; 8 [5], 267–79).
Before you read on: Are you interested in sharing great recipes and nutritional tips with other people on a professional basis? You can become an online nutrition coach with NASM today! Follow the link to learn more.
Recipes: 3 Ways to Tango with Mangoes
Certified wellness and health coach Stephanie Weaver, MPH, of San Diego offers several mango-based dishes on her website, MigraineReliefRecipes.com, and in her book The Migraine Relief Plan: An 8-Week Transition to Better Eating, Fewer Headaches, and Optimal Health (Agate Surrey 2017). "Mangoes are one of the few tropical fruits that are not a known migraine trigger," she explains. "They are also an excellent dessert alternative, as they're high in fiber and nutrients."
Here, she shares three summery ideas for putting these fruits to use. (Note: Not all ingredients below are migraine-friendly. Visit Weaver's website to learn more.)
Peach-Mango Power Smoothie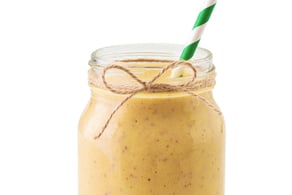 In a blender, combine 1½ cups of milk or nondairy beverage with 6–8 ice cubes.
Add 2 tablespoons each of maca powder, unsweetened cacao nibs, buckwheat and chia seeds.
Slice 2 peaches and 1 mango, reserving 2 peach slices for garnish, if desired.
Blend until smooth.
Kale-Mango-Coconut Salad with Toasted Cashews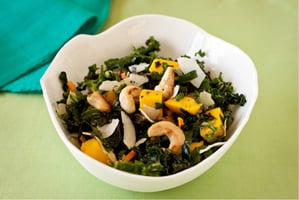 In a large bowl, combine 4 cups of finely shredded kale leaves (washed, stems removed) with the juice of half a lemon, 1 tablespoon of extra-virgin olive oil and 1/4 teaspoon of sea salt.
Massage the dressing into the kale until leaves are glossy and soft.
Top with 1 sliced mango, 4 tablespoons of flaked coconut and 1/4 cup of toasted cashews.
Grilled Mango with Cashew-Lime Crema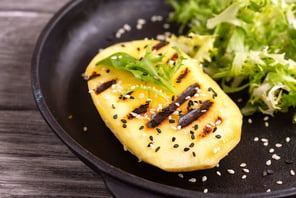 Soak ½ cup of cashews for 30 minutes, then drain and blend them with 1 grilled jalapeño or chili pepper (seeds removed), 2 teaspoons of fresh minced ginger, 1/2 cup of water, and 1/2 cup of fresh lime juice until smooth.
Add more water, as needed, until the mixture is pourable.
Drizzle this "crema" over 2 sliced and grilled mangoes.
Top with lime zest, cilantro leaves, smoked paprika, thinly sliced jalapeños, ground pepper and sea salt, as desired.
Smoothie recipe reprinted with permission from The Migraine Relief Plan (Agate Surrey 2017).
Other recipes reprinted with permission from Stephanie Weaver.