Originally published in the Summer 2019 issue of American Fitness Magazine.
What do you do when life throws you a curveball? Let's say your program design doesn't fit a client's current mood or your class has participants with wide-ranging ability levels. If you're Michael Piercy, MS, NASM-CPT, CES, PES, MMACS, SFS, WFS, WLS, you don't bat an eye.
"Mike
Piercy is a playmaker in sport and in life. He inspires and leads the team,
making points, setting up others while staying humble and having fun in the
process," says Steve Katai, director of education for Hedstrom® Fitness in
Ashland, Ohio. "I witnessed Piercy in action during a recent fitness conference
when an indoor session was oversold. He called an audible and ran the large
group outside for the warmup—not the original play.
He reconfigured the session
on the fly into a circuit, so he could use other areas of the building. What he
delivered wasn't the original plan, but those in attendance would not have
known otherwise. He tapped his experience instead of complaining or succumbing
to chaos. He made a game-changing call that delivered a powerful training
session. Playmaker!"
Owner of The LAB: Per­formance and Sports Science in Fairfield, New Jersey, Piercy (@michaelpiercy) inspires training clients, pro athletes and fitness professionals to be their best. Surrounded by a sports-loving family, Piercy proudly used his Hulkamania™ Workout Set at age 8 because he wasn't allowed to touch his older brother's weights. In middle school, he set the school record for situps in the Presidential Physical Fitness Test. Then, at age 15, he earned his first fitness certification and began his fitness trainer career at Bally's Total Fitness® in Springfield, New Jersey. His mission and life's work: Make fitness fun and coach people at all ability levels to unleash their inner athletes and achieve peak performance.
Value of the Big-Box Experience
What are the secrets to developing a lasting
fitness career? For Piercy, broad-based experience, continuing education and
working with mentors are the keys. During his years at multiple large
facilities, he did every job—from training and member services to sales and
facility management. This wide-ranging experience gave him insight into all
aspects of fitness business and allowed him to hone multiple skills. From his
early start at age 15, Piercy continued working at clubs through high school
and college.
"Nowadays,
a lot of people get a certification and go straight into opening a business,"
says Piercy. "I don't recommend that. I recommend that every fitness
professional start at a big-box club. You're exposed to many different types of
people, and you learn what you should and shouldn't do. I always wanted to have
my own business. At clubs, I learned how I wanted to treat people and how I
didn't want to treat people. No other [professional] training can compare with
it."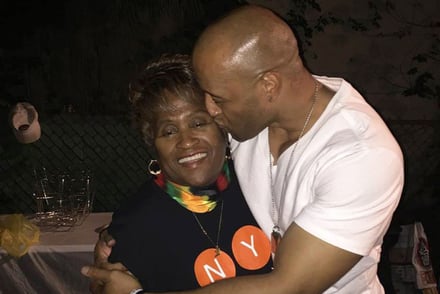 As
Piercy was growing up, his mom fueled his passion for learning about fitness
training. "She would not always buy me toys," he recalls, "but she would let me
get fitness books at frequent weekend trips to Jersey malls." This passion for
knowledge was furthered when Piercy worked at New York Sports Club, because the
facility supported NASM as an education provider and allowed payroll deductions
to be used for education expenses. In addition, the annual TSI Summit exposed
him to presenters and innovative fitness education and conferences.
In
college, Piercy continued his love of training and sports and played on the
Kean University baseball team in Union, New Jersey, while earning a bachelor's
degree with honors. (It was during this time that Piercy was exposed to Under
Armour®, because it provided compression shirts for athletes.) From Kean
University, the Pittsburgh Pirates drafted Piercy in 1999 in the 23rd round.
Lessons Learned From the Dugout
Piercy highlights the significance of his pro
athletic career in light of the life lessons it provided—lessons that continue
to inform and inspire his work as a trainer, coach and fitness educator.
Piercy's professional baseball career lasted 6 years (1999–2005) and spanned
three different organizations: the Pittsburgh Pirates, the New York Mets and
the Montreal Expos. He challenges the popular notion that simply being a
professional athlete prepares you to be a good trainer. "Just because someone
is a great athlete does not mean they can train others," he says. "Being a
great trainer and coach are different skills from being a great athlete."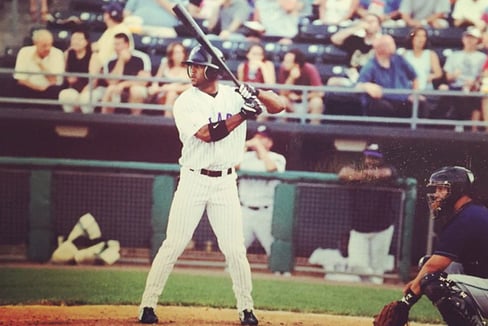 Piercy
describes his professional athletic career as a fantastic training ground for
life, however. "Being a pro athlete was the hardest job I ever had," he says,
noting that many people don't realize how professional baseball is different
from a lot of other sports. "The schedule is grueling with very little time
off—you play every day. You're not going to be 100% every day . . . there's
always some soreness or nagging injuries. You learn to give 100% of what you
have on any given day."
"In
addition, you need to be physically fit to perform the activities you need to
do on a daily basis. You need to think about how to address mental and physical
challenges. You learn that consistency is key. In an over-165-game season, you
can't get too down on yourself or too high when you're up. You need to stay on
an even keel and be consistent. It's a great metaphor for life.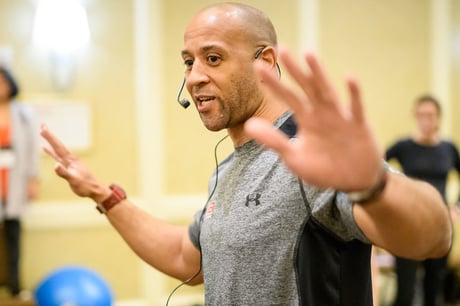 "The
other great lesson I learned is that I have to be ready for any circumstance.
People get cut. People get traded. Nothing is guaranteed to be the same as
yesterday. You need to be able to make split-second adjustments to whatever
happens, which you have no control over. I try to carry that attitude over into
my work—for example, when I'm presenting."
From a
training perspective, Piercy fully appreciates the value of working with great
coaches. "I've worked with many coaches throughout my life. [I've learned]
something different from each. They say that when the student is ready, the
teacher appears. I believe that."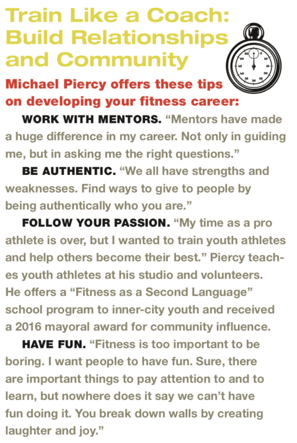 Working With Mentors, Building Relationships
In every professional encounter, Piercy
applies his lessons learned, particularly regarding building relationships,
working as a team player, giving his best performance, and staying humble and
excited to gain more knowledge. After leaving his pro baseball career in 2005,
he knew he wanted to get serious about fitness and checked in with colleagues
at New York Sports Club. Chris Lee, COO of Fitness Holdings Northeast LLC, and
former senior director at Town Sports International, says, "Mike returned to
TSI after his baseball career. I directed him to work as a fitness manager [in
West Caldwell, New Jersey], and that's where Mike's fitness career took off. He
already had the passion and eagerness to learn more and further his education.
He quickly became the smartest guy with the most enthusiasm in the club."
Lifelong Learning With A Focus on Mastery
With a clear understanding that he could not
rest on his personal athletic experience, Piercy focused on bolstering his
education with a view to becoming the best trainer possible. In 2011, while
still working at the club, he undertook a master's program at California
University of Pennsylvania. He graduated in 2013 with an MS in exercise science
with a concentration in performance enhancement.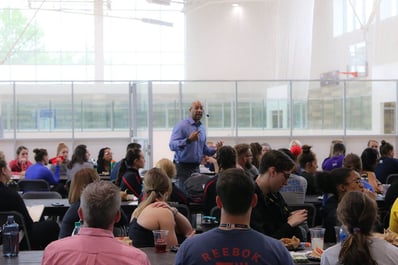 As a
strong believer in continuing education, he also undertook multiple trainings
and certifications. In retrospect, however, Piercy thinks that less is better
and advises today's fitness professional to focus on a specific niche. "For
example, if you want to train athletes, you must do PES."
Being a Coach
According to Dan McDonogh, senior manager of
performance training and sports marketing for Under Armour, Piercy recognizes
that his role is not to show others how great an athlete he is, but rather to
help others get to where they need to go. And, as a coach, he knows the what,
when, why and how of enabling clients to do this. "Piercy has the top qualities
that are needed to be successful in the fitness industry."
Putting
these qualities into practice helped to establish Piercy as a trainer who could
work with champions. "After I returned full-time to the club," Piercy says,
"that's the time I started working with pro athletes—they found me and liked
the results they got. Then the NFL lockout happened in 2011, and I started
training a number of players, including Kareem McKenzie, former right tackle
with the New York Giants for Super Bowls XLII and XLVI."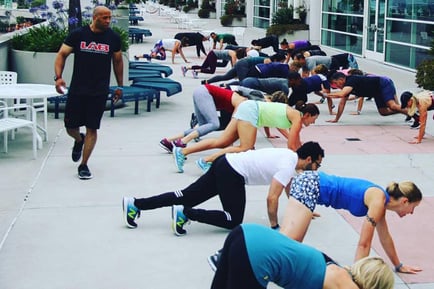 McKenzie
describes his training with Piercy: "The training not only kept me in great
shape; it addressed any deficiencies that I had to keep me on the field for 16
straight games. . . . With [Piercy's] help and expertise, I did not miss a
single beat when we embarked on our Super Bowl Championship seasons."
With
Piercy establishing himself as a successful trainer, he experienced another
significant turning point in his career when, in 2011, he participated in The Under
Armour Global Training Symposium. "At that program," he says, "[I] met key
people with TRX®, and that would be the beginning of my relationship with
them." This was also where he found a mentorship program, leading him to Larry
Indiviglia, MA, MBA, president of INDsightsForLife Inc. "I acted as Mike's
coach for 6 full years (2011–2016)," says Indiviglia. "We learned from each
other and had a very special connection."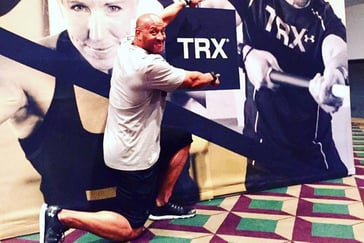 Professional Develop­ment and Teamwork
Applying his belief in the value of coaching,
Piercy was open to those who wanted to participate in his career development,
which led to forming relationships with individuals at different brands. With
each brand relationship, he notes, "I met a key person who helped me move my
career."
After initially meeting TRX representatives in 2011, Piercy became a master trainer. In 2013, he received the TRX FACEUP Award for overall instructor of the year. He met McDonogh at TRX and became a member of the Under Armour training team in 2017. Katai recruited Piercy to be a master instructor for BOSU® and Surge® in 2019.
In
addition to leading local trainings, Piercy began presenting at conventions. "I
love speaking and presenting. It gives me a chance to contribute to making our
fitness industry better."

Fulfilling a Dream: Opening The LAB in 2012
"I've always dreamed of having my own place," says Piercy. And, in May 2012, the dream was fulfilled with the opening of The LAB: Performance and Sports Science in Fairfield, New Jersey (@thelabsports). The LAB's training philosophy is FUN: functional movement, usable movement, naturalistic movement.
After
moving from his first location, Piercy is now settled in a 6,000-square-foot
training facility. Services include sports performance training, personal
training, group training (including the Under Armour 360 program), TRX
programs, his signature 30-minute workout programs and a new online training
program, The LAB Mobile.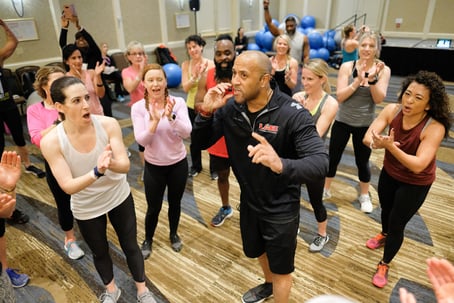 As a
former youth athlete, Piercy is dedicated to youth sports. The LAB offers
strength and conditioning and performance programs for local youth sports
academies and schools. The training focuses not on specific sports skills but
rather on the refinement and enhancement required for athletes to play at their
best.
Piercy
likes to give his clients the experience of training like an athlete. "What's
really different when you're an athlete is that you're training for a specific
performance. People train differently when they feel that they're preparing for
a competition, for example. And there's a fun aspect, too."
A Coach's Heart and an Educator's Dedication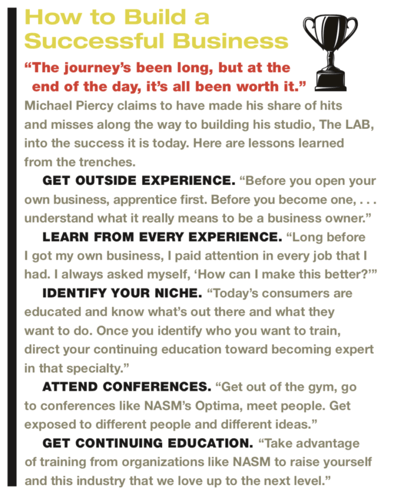 In his journey from childhood dream to
thriving studio business, Piercy has put his heart into every step. Keeping an
even keel—with tenacity and commitment—he has actualized his business goals and
continues to dedicate himself to lifting the industry higher. He is as
passionate about the success of other fitness professionals as he is about his
own: "We all love this industry. If there's anything I can do to help another
fitness pro give his or her clients a better experience, I want to help.
"You have to live outside your comfort zone. You have to
find ways to put yourself in situations where you need to stretch. We want people
to be skillful at this craft. We want people to study it, respect it, do
mentorships, do internships, take it seriously. It's an awesome trust when
people come to us to train. We need to appreciate that."