Yoga can offer your current clients added benefits and bring in new faces. Here's how to get on the path to your own yoga practice.
By Selene Yeager
About 9% of U.S. adults (20.4 million people) practice yoga—up 29% since 2008. And an additional 44% of Americans say they are interested in trying it. Why not be the one to help them? Incorporating yoga into your training services—whether through your own yoga teacher training or an instructor partnership—can be a boon to your business and maybe even your own personal fitness.
"For me, it's about offering a full package," says Ashley Yandle, NASM-CPT, of Ashley Lane Fitness in San Diego. "Strength training and cardio are great for sculpting and losing weight, but the mental health of clients is important for success too. People have so much stress, they'll often want to cancel if they feel they're not up to working out. If they know they can do yoga, they'll actually come in. I also find that it gives me clientele who aren't interested in traditional gym work. Offering yoga helps me stand out as a trainer, and I have more clients—and more clients who come back." Where to start?
Find Your Style
There are dozens of styles of yoga. You can explore the philosophies behind the practices using resources like Yoga Journal (just type "yoga styles" into the search engine of the website yogajournal.com). Then go take some classes. "As a fitness professional, you should have a fundamental understanding of movement and the human body. Yoga can enrich that understanding and expand your skills to serve your clients' fitness and wellness needs," says Dallas-based trainer Gerardo Mulas, NASM-CPT, CES, of Gerardo Mulas Health & Wellness. "Go in with an open mind; embrace what works and leave behind what doesn't."
Dedicate Time to Practicing
Once you hone in on a style that speaks to you, practice it so you know it intimately, advises Mulas. This is good to do even if you choose to partner with a yoga instructor rather than getting certified yourself, so that you can speak intelligently about the practice.
Yoga benefits (for you and clients) include cardio health, flexibility, endurance, and balance.
Get Certified or Partner Up
Once you choose a style of yoga practice, you can partner with a practitioner, offering packages including their services and sharing referrals. Better yet, teach it yourself, says Yandle. "I recommend certification even if you don't want to teach," she says. "You go on this physical and mental journey that helps you understand yoga and the benefits it provides. You can also speak much more knowledgeably about yoga if you've gone through the training process."
Know Your Options
Are you ready to start exploring yoga? There are a series of yoga courses available through the Athletics and Fitness Association of America (AFAA) division of our organization to start you on your path. There isn't a single governing board for yoga teacher certifications, but a number of trustworthy organizations are working to identify quality programs. One example: Yoga Alliance, which reviews and recognizes yoga teachers and training programs that meet specific standards. A directory is available to help you find registered training programs, a yoga teacher to partner with, or specific programs to complement your NASM-CPT certification or specializations.
Promote All the Benefits
Yoga has many benefits for clients ranging from the more sedentary to high-level athletes. "It improves range of motion, flexibility, balance, and functional strength. It also helps people release stress and learn to relax," says Mulas. But beyond the musculoskeletal and stress-relief benefits, yoga can also work on the nervous and endocrine systems. "There are poses that positively impact the digestive, respiratory, and nervous systems, which will improve anyone's health," says Mulas.
TRY THIS
Strike a Pose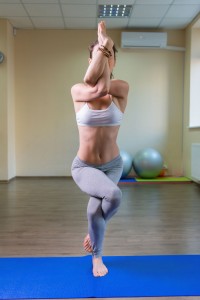 Want to experience the power of yoga? Eagle pose is one of Yandle's favorites. It demonstrates all of yoga's benefits: balance, flexibility, range of motion, concentration, mind-body awareness, and general health.
1 Stand with the bases of the big toes touching, heels slightly apart.
2 Bend knees slightly, lift right foot up, and, balancing on the left foot, cross the right thigh over the left thigh.
3 With right toes pointing toward the floor, press the right foot back and hook the top of the foot behind the lower left calf, balancing on the left foot.
4 Extend arms straight out, spreading shoulder blades wide, and cross arms in front of the torso so the left arm is above the right. Bend elbows and nestle the left elbow into the crook of the right, raising forearms perpendicularly, with backs of hands facing each other.
5 Finally, turn hands and press palms together as much as possible; lift elbows, pressing fingers toward the ceiling. Hold for 15 to 30 seconds. Then repeat with arms and legs reversed.
MEET OUR EXPERTS
Ashley Yandle, NASM-CPT, has her vinyasa power yoga certification and Pilates certification. She believes her varied expertise helps her design workouts.
Gerardo Mulas, NASM-CPT, CES, doesn't find anything unusual about blending the speed of martial arts with the slower (yet still intense) pace of Iyengar and ashtanga yoga.