Besides being a tasty snack and versatile ingredient for a range of dishes, cherries bring a host of health and performance benefits. Grab a handful of fresh cherries as you take a quick read about this nutritious food and get ready to try the recipes at the end!
If you are a nutrition coach, your clients will love you for sharing the great recipes within this resource!
Cherry History
Cherries are part of the prunus family, which also includes almonds, peaches, apricots and plums. They are small, fleshy, reddish black fruits that contain a hard pit on the inside. It is thought that Romans first discovered cherries in Asia around 70 BC and then introduced them to Britain in the first century AD. Cherries were brought to America by early settlers in the 1600s.
Nutrient Breakdown of Cherries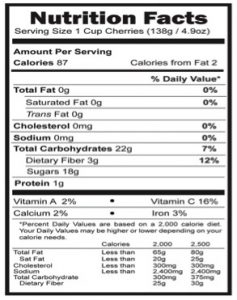 Health Benefits of Cherries
Cherries contain several phytonutrients that possess potent antioxidants and anti-inflammatory properties. The polyphenols in cherries (red wine is high in them as well) have demonstrated favorable effects on arthritis, diabetes, gout, heart disease, muscle pain and muscle recovery. (Ferretti, G. et al. 2010) (Zhang, Y. et al. 2012).
They are also sports-performance enhancing like other fruits. One specifically being avocado.
Insomnia
Tart cherries contain melatonin, a hormone secreted by the pineal gland that helps regulate sleep and slow down the aging process. Some studies have shown that consuming 8 ounces of tart cherry juice twice per day resulted in an increase in sleep time and improvements in insomnia. (Pigeon, W. R. et al. 2010)
Sports Injuries
Cherry juice has shown efficacy in decreasing some of the symptoms of resistance exercise induced muscle damage as well as post-run muscle pain by reducing markers of muscle damage, inflammation and oxidative stress. (Connolly DAJ. et al 2006, Kuehl, K. S. et al. 2010, Howatson, G.,et al. 2010)
Dose: 12 ounces of a tart cherry juice twice per day
Local, Seasonal, Organic
While there is some controversy regarding the nutritional quality of organic versus conventional produce, there is research showing that the pesticides used on non-organic produce can have adverse health affects by causing endocrine disruption. The endocrine-disrupting chemicals (EDCs) in pesticides have also been shown to be obesogens, foreign chemical compounds that can disrupt lipid metabolism and lead to obesity. (Holtcamp, W. 2012, Mnif, W. et al. 2011)
Because cherries are highly sprayed with pesticides, my preference is to eat organic. Cherries are in season in the summer, however many grocery stores carry organic frozen cherries year-round, which are great for smoothies.
Recipes
Power Cherry Smoothie
1 cup water or milk (unsweetened almond, coconut or dairy)
1 cup frozen cherries
1 banana
1 cup raw spinach
1 tbsp ground flaxseeds
25 g whey protein powder (vanilla, cold processed, microfiltered, non-rBGH isolate/concentrate, stevia sweetened or unsweetened)
Greek Treat
1 container of Greek-style yogurt (plain, full-fat)
½ cup fresh, sliced cherries
2 tbsp raw or lightly toasted pecans or walnuts
Drizzle of honey on top (optional)
Paleo Cherry Almond Crisp
Serves 6
Ingredients
4 cups fresh cherries, halved
2 tbsp arrowroot powder
2 teaspoons vanilla extract
1 tbsp fresh lemon juice
1 tbsp honey
Topping
1 cup almond flour (I use Trader Joe's or grind my own)
½ teaspoon fine sea salt
3 tbsp extra virgin coconut oil
3 tbsp honey
Directions
Preheat oven to 350°F and place a rack in the middle
In a large bowl toss halved cherries, arrowroot powder, vanilla extract, and honey. Set aside
In another bowl mix together almond flour and salt, then and add in honey and coconut oil until the mixture begins to form crumbs. Set aside
Grease a 9-inch baking pan
Scrape the cherry mixture into the baking pan and spread evenly
Spread the topping over the fruit in an even layer
Bake in the oven for about 25 minutes or until the topping has browned
Remove from the oven and allow to cool 10 minutes before serving
Top with Greek Yogurt or Coconut Bliss ice cream
References
Connolly DAJ, McHugh MP, Padilla-Zakour OI, Efficacy of a tart cherry juice blend in preventing the symptoms of muscle damage. British Journal of Sports Medicine 2006;40:679-683.
Ferretti, G., Bacchetti, T., Belleggia, A., & Neri, D. (2010). Cherry antioxidants: from farm to table. Molecules, 15(10), 6993-7005.
Holtcamp, W. (2012). Obesogens: An Environmental Link to Obesity. Environmental Health Perspectives, 120(2), a62–a68. https://doi.org/10.1289/ehp.120-a62
Howatson, G., McHugh, M. P., Hill, J. A., Brouner, J., Jewell, A. P., Van Someren, K. A., ... & Howatson, S. A. (2010). Influence of tart cherry juice on indices of recovery following marathon running. Scandinavian journal of medicine & science in sports, 20(6), 843-852.
Kuehl, K. S., Perrier, E. T., Elliot, D. L., & Chesnutt, J. C. (2010). Efficacy of tart cherry juice in reducing muscle pain during running: a randomized controlled trial. Journal of the International Society of Sports Nutrition, 7(1), 17.
Pigeon, W. R., Carr, M., Gorman, C., & Perlis, M. L. (2010). Effects of a tart cherry juice beverage on the sleep of older adults with insomnia: a pilot study. Journal of medicinal food, 13(3), 579-583.
Mnif, W., Hassine, A. I. H., Bouaziz, A., Bartegi, A., Thomas, O., & Roig, B. (2011). Effect of Endocrine Disruptor Pesticides: A Review. International Journal of Environmental Research and Public Health, 8(6), 2265–2303. https://doi.org/10.3390/ijerph8062265
Zhang, Y., Neogi, T., Chen, C., Chaisson, C., Hunter, D. J., & Choi, H. K. (2012). Cherry consumption and decreased risk of recurrent gout attacks. Arthritis & Rheumatism, 64(12), 4004-4011.