Each month, we'll shine the spotlight on a different NASM Certified Personal Trainer who's making a difference in their community.
For November, we spoke with Renee Pickett, a Health and Fitness Motivational Speaker, a STRONG by Zumba Master Trainer, and Zumba program developer, as well as a fitness model, and a mom to boot. She's also in the final stages of becoming an NASM Certified Personal Trainer.
But wait, there's more! Renee is also an NASM/AFAA-sponsored athlete for the 2019 Spartan World Championships.
This incredible athlete/instructor/model/social influencer/supermom was kind enough to answer some of our questions. We're sure you're going to enjoy what she had to say.
Renee, your list of credentials is, to put it mildly, pretty impressive. Can you tell us about how your fitness journey began?
My dream as a teen was to play for the U.S. Women's Soccer team. Soccer was truly my first love. After three knee surgeries, all before the age of 16, life had a different plan, it seemed.
We had
moved to a town with no female soccer teams, and sports fell by the wayside for
me. Although living on a farm, there was always something physical to be done.
So, I always got my exercise by merely doing daily chores.
I graduated and got married all within a week! Not something I would recommend for everyone. I got SUPER lucky! We had our first son when I was 20 and our second when I was about 22. I decided to leave my super-stressful banking job when we discovered we would have our second baby boy. I hated the high-stress and mundane office job.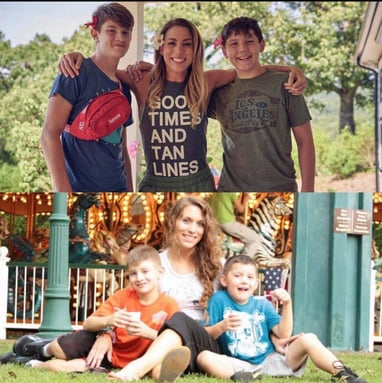 Fast
forward a year after our second child's arrival, and I remember my husband
telling me a gym had opened up only five minutes from where we lived. I was
about 40-50 pounds overweight, exhausted, and unhappy with how I had completely
let myself go. Not just physically, but emotionally. I had put myself on the
back burner as most new moms do, not knowing just how much better of a mom I
could be if I was in better health.
I finally
gave in and let my husband sign us both up for the gym. I would go in and
usually end up on cardio equipment, as I didn't know how to use anything else.
Talk about boring!
One night, I was on the treadmill and heard a scream from the Group X room. I later found out there was a Zumba class going on. "What is Zumba?" I asked.
The
employee replied, "It's a Latin- dance- workout-thingy." Hmm,
Interesting. I was on my treadmill again, and this time the people began filing
in for Zumba.
A lady in
the class leaned out and said, "Hey! You should come join us!"
I said,
"Haha! Oh, no. I couldn't survive. Thank you anyway." She tried to
coax me but eventually left me alone and went inside.
As the
music blared, I found myself wanting to go in! Thankfully, my hubby was
watching me and came over. "I know you want to go in. Go for it," he
said. I decided, WHY NOT? I went in, and the humiliation began almost
immediately! If I was going right, they were going left; if I was turning
around, they were already done. I was mortified! However, I had SWEAT MY ASS
OFF! I vowed to never return for that voluntary humiliation EVER AGAIN.
About two
weeks later, my pride had finally healed, and I was back on my treadmill. There
they go! Filing in for Zumba class again. SAME LADY approached me AGAIN. I was
apprehensive but thought, "It's this or go home. I am bored to tears at
this point." I was shocked to realize I remembered a few of the moves from
the one class I took! I felt accomplished, and like I had achieved something. I
was hooked after that class. I became a regular, front row diva, and even would
go to the front of the class and be a "back-up dancer" for my
instructor. I loved it!
When did you – or what made you - decide to take fitness seriously and go pro? What brought you to NASM/AFAA?
My Zumba instructor approached me about becoming an instructor to sub her class while she was on summer vacation. She baited me with the offer of a free gym membership for my family and even score some money teaching the class. SOLD! I never had ANY goals except to be her sub.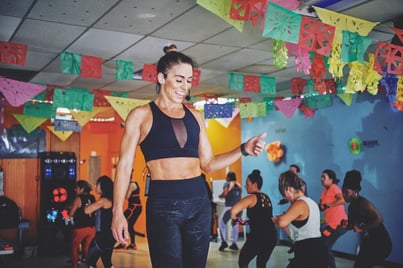 I had to
borrow money from my brother-in-law to become an instructor due to money being
tight. Never will forget his words: "If I loan you this money, you HAVE to
do something with this. You MUST go out and teach." I pinky-promised, even
though I had so much doubt in myself to teach a class alone. I decided to reach
out to a local gym that did not even have Zumba on the schedule. They agreed,
and neither of us knew just how big it would get. I ended up teaching 5-6
classes a week there, alone. We would have so many people show up, and I had to
teach back-to-back classes to avoid breaking fire codes.
One year
into teaching, and I was teaching eleven classes a week, scattered between
multiple facilities. I rocked the Zumba game hard for about eight years, and
during this timeline, I became a Zumba Jammer (which is a Zumba choreographer)
in 2011, and then a Zumba Education Specialist (ZES) in 2012. I rented a
nightclub and would teach packed classes Monday-Wednesday, then travel on
weekends to nine different states teaching Zumba Specialty Instructor
Trainings.
The only
problem was I was beyond burned out but kept on teaching. Battling injuries,
sickness, and exhaustion became a full-time job, on top of being a mom and
wife. I felt bored, hungry for something else to ignite my passion for fitness
again.
At this
time is when I started diving into weightlifting and HIIT workouts. I loved
being able to see physical gains in my body and loved how great I began to
feel! I reached out to my boss, expressing my concerns that I just didn't fit
in Zumba anymore, and questioned my place in the company. He quickly assured me
to hang on. Something was coming that he felt I would be in love with. He asked
me if I had ever considered becoming a Certified Personal Trainer. I had toyed
with the idea but was nervous about such significant certification. He nudged
me towards it and expressed he felt I would love it. I decided to trust this
new boss of mine, "Why not?" I asked myself again. (Have to do a
shout-out to Darren Jacobson here. Thank you for believing in me and always
giving me the push towards growth!)
So, I signed up to get my NASM-CPT certificate. I just fell in love with the muscles and the body. What a powerful thing to know how to put everything together for maximum results, and I loved how much it pulled everything I taught together. I loved being able to program, even my Group Fitness classes, with purposeful movements due to knowing what is working, and how it's working.
I chose
NASM because I had heard it was so applicable and dealt more with real-time
issues. I also loved that their content is more up-to-date than some other
competitors out there.
The process
has been great! I love the online guided-study program. SO efficient in how
they team up specific chapters that go hand-in-hand instead of having just to
read chapter after chapter blindly.
What is
interesting is I don't even view myself as a 'Pro.' I feel I am continually
learning, growing, and still such a novice in the industry. I decided to jump
in head-over-heels once I became a Certified Personal Trainer. I felt I had the
knowledge to back up my experience. Coupling them together provides confidence.
My fitness journey is still in the making, though. I feel I have come SO far, but... STILL, have so much to come.
You were selected to help create the STRONG by Zumba. Can you tell us about that?
Shortly after receiving my certification, Zumba's home office reached out to me to help them create a new program. They felt I had something to offer, and I was going to give them my best! We spent a week in Miami in 2015. A few other trainers, the education department, and I sat down and came up with what is now known as "STRONG by Zumba." Talk about IN LOVE! I fell head over heels for this program and haven't looked back.
I decided
to step away from the dance-fitness side of the company, and solely work as a
Master Trainer for STRONG by Zumba. It has been the best decision I have ever
made. I love pushing myself past my limits, always challenging myself.
What is a typical day like for you?
I am NOT a super structured person. That would be my husband, who is strong in the organizational game. But, typically like this: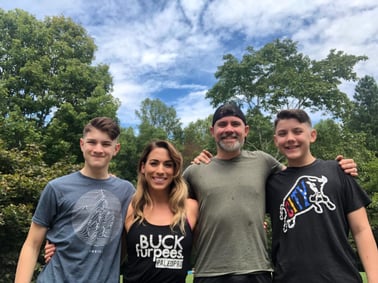 6:30 AM: Wake to get our Boys (Dawson is a freshman in High School, Carter is in the 8th grade)
PUSH my kids out the door, drop both off to their schools
Come home, get dressed for the gym, and hit a workout or trail run
Eat brunch (I'm an intermittent faster)
Work on something work-related (emails, social media responses, etc.)
Pick up boys from school, feed them
Run them back to school for soccer, lacrosse practices, and marching band rehearsals
Return home to do some more work/emails/programming for upcoming classes/training
Attempt to clean my crazy mess of a house
Teach my classes
Cook dinner for the fam and catch up on everyone's day
CRASH into my bed HARD
I travel on
weekends to teach my STRONG by Zumba instructor training, master classes, and
Spartan Races. The weekdays, I try to be as present as possible for my boys. I
know the time will come all too soon for them to leave home. I feel so blessed
to be able to be there for them when it counts. There are days I make 3-4 trips
to their school for all of the after- school activities.
Are you interested in any specializations or other certifications?
YES! I have my sights on two as of right now: NASM-CES (Corrective Exercise Specialist) and the NASM Nutrition Certification are my goals for 2020.
Is there a particular niche of clients that you prefer to train?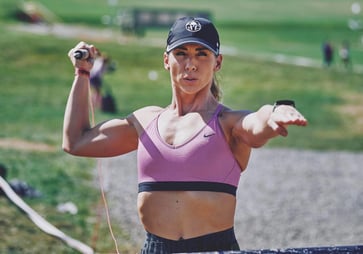 Honestly? I love training women. (Sorry, fellas!) There is just SO much that women battle against, ESPECIALLY when it comes to the gym. A lot of women feel intimidated, going over to the weights and machines. I can't tell you how many times I have heard, "I just feel like I look stupid because I have NO CLUE what to do, or if I am even doing something correctly."
I love
empowering women to take back their health, confidence, and their bodies. When
you help someone reach towards their best selves, they begin to reach for their
best person in EVERY facet of life. I encourage my clients to take what they
use in the gym, and their fitness journey, and cross it into relationships,
finances, nutrition. They begin to realize they DESERVE BETTER EVERYTHING!
Tell us about your experiences with Spartan races and making it to the World Championships.
My newest fascination is Spartan Obstacle Course racing. In just a little over a year, I have run over eight races, competed in the North American Championships in West Virginia, and qualified and competed in the Spartan World Championships in Lake Tahoe, California, just a few weeks ago. World Championships was the toughest thing I have ever athletically competed in my entire life! I loved it SO much!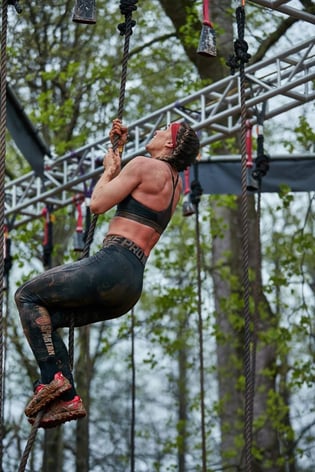 Spartan
quickly became my physical and mental workout. I have become obsessed with
discovering new depths of mental strength. I needed to reach the place many of
my students/ clients reach during my class the breaking phase. Where they
DESPERATELY want to give up, but they shove on through that mental wall.
Many people
ask me if I have won one yet. My answer is always truthful and probably not
what they expect. I don't run to try and win. I run to try and beat out any
laziness I have. It's quite astonishing how many of us don't push until we have
NOTHING left. We hold back, we say we CAN'T when we don't want it bad enough.
Running in
the Spartan World Championships wholly altered my perception of Mental Grit. I
heard 100 women in my Age Group Heat were at the start line, and only 54 of us
finished. The weather conditions quickly deteriorated upon arriving from a
paradise, to my own personal Winter Hell. It snowed overnight; winds were 25-30
mph, 30 degrees at the start line, and upwards of 9,000-feet elevation, PLUS
the dreaded SWIM. People were dropping like flies during the race. I remember
hearing a fellow Spartan Elite who won the North American Championships, did
not finish due to hyperthermia.
As soon as
we took off from that start line, I KNEW that race was going to be about
FINISHING and Me vs. Me. I shifted my focus from what my placement goal was, to
pure SURVIVAL. Many do not know, I have a medical condition called Raynaud
Syndrome, which causes spasms of arteries and episodes of reduced blood flow in
my fingers, and sometimes my toes. During any significant temp changes or
exposure to unusually COLD, some fingers turn white/blue and become completely
numb and useless. This can be a BIG PROBLEM for a Spartan Athlete! Because, if
I fail an obstacle, there is a 30-burpee penalty each time. 30+ obstacles YOU
DO THE MATH! I kept slipping off of obstacles that required grip strength due
to this and did 120 burpees total that race.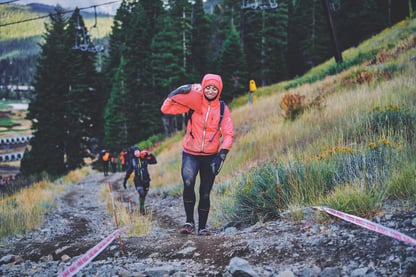 I had a panic attack at the swim, but decided I didn't come this far not even to attempt it. I was SO nervous. Many people were being carted off by medical, screaming, borderline convulsing from the cold chills and hyperthermia.
After a
motivational speech from a volunteer, I just took off running and dove in
before I could talk myself out of it again. Funny thing, the water was warmer
than the air outside thanks to a prior week 70-degree weather.
When I got
out, that is when the real panic tried to jump on me. The wind cut me in two. I
began shaking uncontrollably, and I remember thinking, "OMG, I knew better
than that. I am going to get hypothermia for the first time in my life."
My hands were shaking so badly I couldn't even get my dry shirt out of my
ziplock bag. I had to use my teeth and the crook of my arm. I quickly covered
my head first, changed shirts, and took off up the mountain to try and warm up
as much as possible. That was the lowest point of the race for me. I ran in the
clouds due to elevation.
At one
point, I remember looking up and just asking God to PLEASE bring me some
sunshine! PLEASE! I looked out across the vast mountains and saw the Festival
Area (start and finish line), and it looked like the Golden City. It was lit up
bright with sun rays. I decided right then and there, "We won't stop till
we get there." And I DID! Although we heard rumors of some racers skipping
the swim due to fear, and others not doing all their penalty burpees due to
lack of course marshals, I am proud to say I completed the swim. I did EVERY
DAMNED burpee plus three more in case I had left out one or had bad form from
the exhaustion. And I placed 30th in my Age Group Heat. It was a very proud
moment for me. Before you even ask, YES! I would do it again in a heartbeat.
Wow, that's quite an experience! Thank you for sharing it with us. You have a fairly strong following on Instagram. How important do you find social media to be for your career?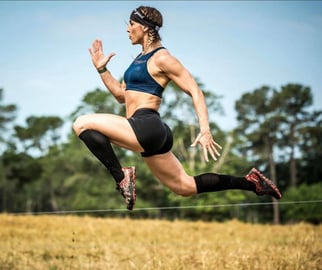 Social media is such an incredible tool. I find it VERY important to remain relevant in the industry. But more than that, it is SO amazing to be able to connect, learn, teach, and positively impact people from all over the world with the click of a button! There are days it feels like a job, and then, there are days you get a message of how you have helped someone in their life, and it all feels worthwhile.
Any advice for up-and-coming fitness professionals?
My advice would first be to be AUTHENTIC! Nothing wrong with being inspired by someone else, but remember that YOU ARE THE SECRET SAUCE. The world needs more people who are on fire for something, and GENUINELY passionate about something. Share that! Pursue that!
Second, BE
HUMBLE. Always be willing to be the student and learn a better way.
Third,
don't sell out for brands and companies that you don't believe in. Your
audience TRUSTS YOU. Don't take that lightly. Someone else is trusting your
faith in a company/product/brand, so choose carefully in what you're attaching
your name to.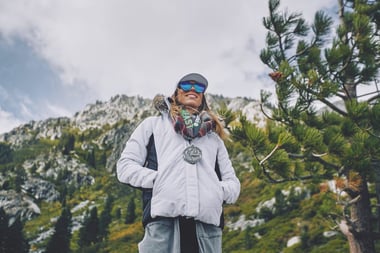 Lastly, I
would say, BE PATIENT. You will be tempted to pay for followers and take
shortcuts. Success lies not in the destination but the journey. Life experience
is INVALUABLE. Be patient and build an organic audience in your space. It will
be SO worth it in the end!
All of us at NASM/AFAA wish Renee continued success in fitness, teaching, influencing, competing, and inspiring thousands. Thank you so much for answering our questions, Renee!
You can follow Renee's Instagram page at instagram.com/reneepickettfitpro.
* * *
Do you know someone who might be worthy of a Q&A with CPT? Tell us about him/her by emailing Meiti.Prang@nasm.org. (Only requirement is that this person must be an NASM-CPT.)