As an early adopter of fitness technology, Ted Vickey, PhD, once conducted a survey of about 200 fitness professionals. "The thing that I found most shocking was that trainers use technology for themselves, but they don't yet use it for their clients," he says.
"And my thought process is that they have never been taught how." This is not their fault, notes Vickey, founder and CEO of FitWell, a fitness technology management consulting company based in San Diego and a kinesiology professor at Point Loma Nazarene University.
"If you go to conferences, if you go to workshops, very few are talking about how to integrate that technology into your personal training business."
If you are a virtual fitness coach, nothing could be more valuable than technology to connect and deliver safe workouts!
Though he predicts that this is "about to change," you can benefit—right now—from the advice of Vickey and other fitness professionals whose passion it is to test-drive new tech, including wearables, software, websites, equipment and business tools. Whatever you do, though, don't wait to start integrating tech into your business.
"Fitness professionals cannot afford to ignore technology. Period," says Shannon Fable, an experienced business and program developer in the health and wellness area with certifications in health coaching, personal training and group fitness. "And I think the reason why we do [ignore it] is: (1) We assume there is a great cost to it. (2) We assume there is a complexity to it that is just beyond us. And that leads to: (3) We don't set aside time to work on our business because we're too busy working in our business. [But] if you take the time out to actually set up tech and make it work for you, you can scale your business."
Fable adds that it's not necessary to be at the forefront of fit-tech research to benefit from what's available. "But [to be competitive,] you should be with the pack, at least," she says. "You can't know everything about every type of fitness technology, but you can go deeper into one or two areas." This is analogous to specializing in fitness programming for a specific population (e.g., youth or people with cancer) or becoming an expert in a specific modality (e.g., yoga, strength and conditioning, or indoor cycling). "If you're serious about your business, you need to invest a little time and money in these things," says Fable. "It will pay you back in spades."
Amanda Mittleman, MS, NASM-CPT, has seen these payoffs firsthand in her many roles over the past 20-plus years, including personal trainer, functional movement specialist, group fitness instructor and entrepreneur. In particular, in her current role as owner and CEO of Mo-Mentum Fitness in Huntington Beach, California, she appreciates how technology has allowed her to rethink where she puts her energy each day. "I'm delegating better and more," she says.
For example, the website redesign she undertook this summer is making it easier for her staff to post blogs and alert members to events on social media—roles that she formerly shouldered on her own. It also enables her to coach her staff on best practices. "I'm using technology to support my culture," she says. "I can monitor what my instructors are texting to their clients, and I can coach them on that. I love it because, as we grow, I can't text everyone myself."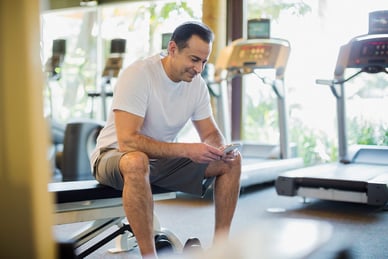 This raises another important point that all three of these experts
brought up individually: Technology will never be a replacement for fitness
professionals. Consumers may be able to find workouts online, track their heart
rates on their watches and input meal ingredients into an app, but none of that
replaces the personal touch and sense of community provided by an individual
instructor who knows them personally.
"The most important word in the human language is someone's name. People need to know they're important," says Mittleman. "I think technology is actually pushing studios to do more to create a community, because that's going to make us stand out from a virtual workout."
Vickey adds that technology can make it a little bit easier for fitness
professionals to do their job—once they get past the initial learning curve.
"[Fitness professionals] have a tough job to be successful in this industry.
It's a lot of long hours. It's a lot of headaches at times," he says. "So I
come at it from an approach of 'What technology tools can you use to decrease
that stress level and to get you on the [gym] floor more?' I'm a big proponent
of helping trainers work smarter, not harder." Here are a few ways these
experts say you can do exactly that.
Streamline Your Communication Strategy
A few decades ago, communication with clients was only via phone and in
person. Today, there are emails, texting apps, social media platforms, websites
and myriad other ways of reaching out. "You need some kind of communication
strategy. And that's [true for] one-to-one, one-to-many and one-to-few," says
Fable. But you do not need to do it all—or allow clients into your life 24/7.
Here are a few ways to keep it under control:
Consider a dedicated phone number.
Calling clients will always be necessary, but handing out your personal cell number is not. Google Voice, Grasshopper and Skype all offer the opportunity to call clients from a business number. For employees of gyms or studios, Fable says the business's phone number should be the point of contact, not any staff member's private line, use of which could lead to questions about who pays the phone bill and what happens if the employee leaves.
Be clear about boundaries.
Fable suggests being very clear with clients about how and when you will interact with them. After each workout? Once a week? Once a day? Only during certain hours? Via text? Via email? Via phone call? As with everything, this is up to you, but think carefully before you go down the slippery slope—and be sure to clarify your plan to clients.
Simplify your social media posting.
Fable says it's too much to try to use every communication tool and social media platform, so she recommends selecting one or two that you like. Vickey takes a different approach, using an app called Hootsuite, which allows him to upload a single message and have it automatically distributed to his LinkedIn, Facebook, Twitter and Instagram accounts.
Use smartphones for more than music.
In his research on the creation of a nutrition app for low-income communities, Vickey and his colleagues found that the easiest way to help people track their food intake was to have them use their smartphone to take a picture of their plate.
He also suggests that clients video-record new exercise moves or other instructions during a session. This can cut down on questions between in-person appointments.
Have an up-to-date website.
Your website is your "online business card," says Fable. Yet Vickey notes that his research shows 60% of personal trainers don't have one at all. At a minimum, your website should include the services you offer, your current fees and a bio that includes your education and credentials (plus those of your staff members). While there are plenty of tools that allow you to make your own—WordPress, Wix and Squarespace, for example—Mittleman recently hired a firm specializing in web design to give her a complete overhaul.
Improve Goal-Setting and Productivity
Whether you're a studio owner or an independent trainer, you need to be
able to track your customers (past, present and prospective), schedule workouts
(group or personal), and take and process payments. As you get these
technologies up and running, you can also begin looking at platforms that help
you organize to-do's, tasks and larger projects.
Keep track of customer information.
If you don't know the acronym CRM—for Customer Relationship Management—it's time to stop relying on your email, phone contacts or paper index cards to store client details. At a bare minimum, you want to capture each person's name, email address and relevant categories (e.g., location, interests, events attended, purchases made and preferred modalities). AWeber, Contactually by Compass, Constant Contact®, Emma®, Insightly, MailChimp and Salesforce are a few choices.
Make scheduling more client-centered.
Using a scheduling tool can make your calendar cleaner, prevent double booking and show clients you are trying to accommodate their best times (not the reverse). Vickey is partial to ScheduleOnce, which allows a client to select from three appointment-time choices. Other options include Acuity Scheduling, GroupEx PRO and MINDBODY®.
Pick a payment-processing service.
Some of the big names here are Square, Stripe, PayPal, Apple Pay, Facebook Marketplace and Venmo. Sites like these allow you to take credit cards (no one writes checks anymore, says Vickey), set up recurring billing and otherwise track the money side of business. Fable also recommends using an accounting program such as Bill.com®, Oracle NetSuite or Intuit QuickBooks®, which can make it easier to calculate estimated and annual taxes.
Organize your tasks and to-do's—big and little.
These are two distinct types of activities, usually requiring two types of technology (though some programs do double duty). For project management and task management, look into big-picture software like Asana, Basecamp, Monday.com, Smartsheet, Trello and Wrike. For tech to-do lists, consider Apple Reminders, Google Keep, Remember the Milk™, Todoist and Toodle Do®.
Use Data to Add Value to Your Services
"My best advice regarding smart equipment, trackers, heart rate
monitors, etc.: None of it matters if you don't know how to interpret or direct
the data," says Fable. "So, if you're scared tech is going to replace you, you
are so misaligned, because it can't. Data means nothing to a client
without you interpreting it and saying, 'Do more of this,' and 'Do less of
that.'"
Vickey adds that member retention can be improved in fitness facilities
that embrace technology—even if all they do is look at data from the client's
own tracker or phone. "If the gym or the trainer allows the collection of all
of my data, well then I'm going to stick with my membership because I'm getting
all these value-added services," he says. "So instead of using the gym as a
health club,
we're using the gym as a health hub."
Sharing fitness data also helps personal trainers provide clients with
support while they are not face-to-face. "I'm only at the gym maybe 5 hours a
week," says Vickey. "Well, what am I doing in the others? All the data's coming
in, and I'm figuring out what the client should do. When you're at home in the morning,
here's your morning workout. When you're on the road, here's your traveling
workout. What we're doing is removing the four physical walls of
the gym and allowing the gym to act as the centerpiece." It's like having a
financial planner, he tells clients: You can look up stocks and make
investments on your own, and that's fine, but if you want help with that, you
see your financial planner—and if you want help with your fitness program, you
see your personal trainer.
Here, a few other ways tech can help you grow your business:
Customize individual workouts in a class setting.
Group ex instructors know how powerful a leaderboard can be, particularly for competitive individuals. Mittleman says the heart rate monitors at her studio also serve another purpose: They allow her to help exercisers dial down their intensity if they need to recover or rehab from an injury, and she can announce it aloud to the whole class—X and Y need to stay below 80% today—which gives them permission to ease up without embarrassment. Other times, members may think they're working harder than the numbers indicate, so tech can be a reality check. And for members who are self-conscious or view themselves as out of shape, it can show them how well they're doing and how they are, in fact, in the "red" zone with the rest of the class.
Prove that the workout is working (or not).
Mittleman says that a bioimpedance machine is a "game changer." It uses electrical current flowing through the body to measure body fat versus lean mass. Her pick is from InBody, but she says what's most important about this kind of tool are its four points of contact (hands and feet), making it more accurate than a handheld or scale device.
Though Mittleman notes that it's probably cost-prohibitive for individuals, this machine can be a boon to studios because it helps to show clients when their body composition is improving, even if their weight is stagnant. "And if their body composition is not improving (lean mass increasing and body fat decreasing, in most cases)," she adds, "I know it's time to try something different."
Fitness tech is a game changer for proving that technology-driven weight loss and strength gains are actually working. For example, as a personal training app, the NASM EDGE app is more geared toward facilitating these types of results for clients
Dole out virtual high-fives.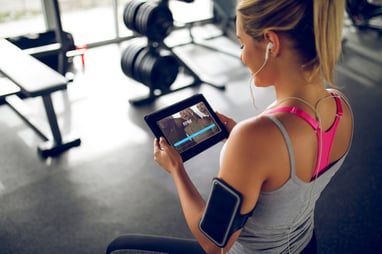 Once you start to see data trends that show some kind of improvement, you can find ways to congratulate and motivate clients via a tech tool. Some types of software enable trainers to send an automatic "attaboy/attagirl" after a client meets a goal—for instance, running three times that week.
"Clients might think that I'm sitting there watching what they're doing, but I'm using technology, and there's really nothing wrong with that," says Vickey. There are a number of apps with that functionality, he says, including Fitbit, MyFitnessPal, Nike Run Club and Runkeeper®.
Check in when clients are slipping.
Mittleman uses a platform called Naamly to communicate with clients. One of its features is that it tracks when clients go to class—and alerts her when they don't, so her staff can reach out to the no-shows. "That's a perfect 'in' for coaching," she says. "The person may say, 'I'm not feelin' it this week,' then we can help coach them through that."
What's on the Virtual Horizon?
Like many fitness professionals, Vickey believes technology is going to
revolutionize the training industry, enabling a trainer to work with a far
greater number of clients than the in-person, in-gym model does now. Vickey
calls his vision the "Spotify Model," because clients would pay a monthly
subscription rather than paying for a specific appointment time and the trainer
would use technology to manage the clients' workouts and provide virtual
coaching between monthly or bimonthly meetings.
"I'm going to watch your physical activity, I'm going to watch your sleep activity, and I'm going to pull all this data together and create a personalized plan," he explains.
It's not a magic pill, though, adds Fable. "Technology has not made
anyone fitter. It hasn't made our clients reach their goals faster. Could it
help us? Absolutely, but you still own your relationship with the technology
and what the clients get from it," says Fable. "It's up to the trainer to
figure out how to make it work for them."
For Mittleman, technology is just part of the cost of doing business these days. And she reiterates that it's nothing to be feared. "I have heard studio owners talk about losing business to online training options," she says. "I don't feel intimidated by online training programs. If someone has a Peloton bike, I'm like, 'Cool, use that, and I'll see you Tuesday.' People need human touch. We can't thrive without it."
4 Tips for Fit Pros at the
"Tech Startup" Level
Ted Vickey, PHD, founder
and CEO of FitWell, never gives a new product to his clients
before vetting it himself and with friends across the country who are his "tech
guinea pigs." Even simple tools like heart rate monitors and apps can be
deceptively tricky to the untrained user. And he recalls test-driving a
particular tool that "required a PhD" just to set it up. "The last thing
you want is to suggest the use of something that frustrates your clients,
because they will project those feelings back onto you," he says.
In addition to learning
the tech "inside and out" before recommending it, keep in mind these expert
tips:
Don't make more work for clients.
For most populations, you should not be using an "active" piece of technology, meaning your clients have to input, monitor or interpret their data. "Jay Blahnik is one of my mentors," says fit business expert Shannon Fable, "and he tells this story all the time about how you can get older people to adapt to tech if you do it slowly, just like [easing into] an exercise program." First, she says, just have clients put on the watch or heart rate monitor and share the data with you. If they show an interest in how you interpret it, you can expand the conversation. Let your clients guide you, she adds. Elite athletes, for example, may be receptive to inputting what they ate or what activities they performed.
Be customer-service savvy.
If Vickey uses a specific type of tech with a client, he does not just call customer service if there is a problem: He tweets about it on the tech company's account, explaining who he is and that he is a fitness professional seeking to help a client address a particular concern.
"I've found that I get quicker responses on Twitter than I do when I pick up the phone," he says. "It saves me from having to sit on hold for 20 minutes, and I get the same type of information, but they've typed it in for me, so I can just click on the link and send it to my client."
Tech can definitely help with establishing more loyal clients!
Commit to it—and use it religiously.
If you introduce the idea of a heart rate monitor or step tracker, don't use it just once in a while. "It can't be like a shiny thing that you throw at," says Fable, who says it should "become codified in your programming and your conversations." Orangetheory® Fitness, she adds, is a good example of tech used well in a gym setting: The employees all know how to use the heart rate monitors, they explain to members how and why they're used, and they review the results of the data at the end of each workout.
Don't let tech hijack the experience.
Even in an indoor cycling class, says Fable, some participants will toss a towel over the high-tech display and ignore your coaching about watts and revolutions per minute. That's okay—it's their workout. In fact, she suggests that some days you coach them to ignore the tech and just focus on how the body feels (for example, paying attention to their rating of perceived exertion). The goal, she says, is not to bow down to technology but to learn to "peacefully coexist" with it.
How to Stay on Top of New Tech
Shannon Fable, an experienced business and program developer in the health and wellness area with certifications in health coaching, personal training and group fitness, recommends scheduling time each month to investigate fitness technology and integrate it into your business. "[In the fitness industry], we talk about continuing education all the time," says Fable. "But part of that is re­searching what's in the marketplace and what consumers are doing. And that doesn't mean just your clients, but the people that aren't yet your clients. What are they doing [with tech]? And is that making them turn away versus turn toward you?" Here are a few ways to increase your knowledge on this subject.
Read Reliable Research
When reading a study on fitness or nutrition, you know to look at who funded and conducted the research. Be sure to use the same approach when looking at findings in fit-tech articles. Generally, if a university does a study, it will be reliable, says Amanda Mittle­man, MS, owner and CEO of Mo-Mentum Fitness in Huntington Beach, California. "If the company is not willing to quote where the research came from, it's probably biased or not reliable," she adds. However, Ted Vickey, PhD, founder and CEO of Fitwell, notes that published research is generally about 2 years old by the time it goes live, so if you want the most current news, look to early adopters.
Follow Fit Pros With a Passion for Tech
Vickey suggests seeking out and connecting with experts who know what they're talking about—online, at workshops and conferences, or at the gym where you work. ("The shameless plug is, follow me on Twitter @tedvickey," he adds.) Check their fitness credentials and background, just as you would before heeding anyone's fitness or nutrition advice.
Hire Tech Experts to Do the Heavy Lifting
There's no shame in seeking expert help in
tech areas—after all, you're a fitness specialist, not a Silicon Valley guru.
That's why, for her website update this summer, Mittleman hired the company
Genesis Keefer, which specializes in web design and development (among other
things).
Think of this approach as "referring yourself out," just as you would "refer out" clients to nutritionists and mental health professionals when their needs are out of your scope of practice. Just don't bow out entirely, she adds. "It's important to work with someone who is going to teach you how to use it," she says. You want to be able to make subsequent changes yourself, so let the tech expert know—up front—that the program needs to be just as user-friendly for your staff as it is for your customers.
Edge: Simplify, Organize, Excel
Download a powerful app
that will transform the way you train.
Take the guesswork and the paperwork out of your busy personal training business with Edge. Everything you need to keep your clients and your career on course is included in one easy-to-use app that:
allows you to customize your workout programs;
reduces paperwork and clutter;
gives you access to a vast exercise library;
enables you to manage your client base with ease; and
gives you access to NASM's comprehensive training systems.
Take advantage of all that fitness technology has to offer and let NASM help you help clients meet and surpass their fitness and wellness goals.
[easy_media_download url="https://blog.nasm.org/wp-content/uploads/2019/10/AFM_Fall19_SM.pdf" text="Download the Fall 2019 Issue of the American Fitness Magazine" width="550" color="blue_four" target="_blank"]