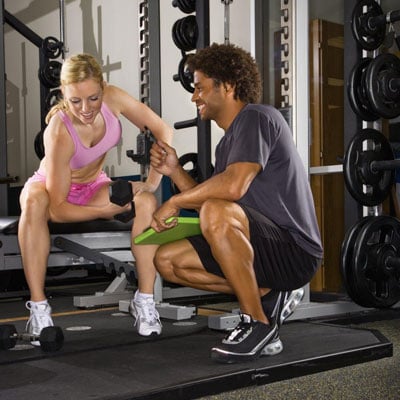 By Stacey Penney, MS, NASM-CPT, CES, PES, FNS
Employment for personal trainers is expected to continue growing at a faster than average rate compared to other industries. The US Dept. of Labor, Bureau of Labor Statistics has predicted an employment increase of 24% by 2020. The National Academy of Sports Medicine Certified Personal Trainer (NASM-CPT) certification is recognized throughout the fitness industry—the certification that offers greater starting salaries on average, according to SimplyHired.com.
If you wanting to explore even more information on the many fitness careers you can have, check out our fitness careers page or How to Become a Personal trainer page!
Average Salary for Personal Trainers
Personal trainers have great earning potential with the majority of full-time personal trainers making between $30,000 and $49,000 per year, and NASM certified personal trainers typically make $42,000 – their first year! As trainers develop their specialties, they can see their income grow by 20%. Many personal trainers even launch their own successful training businesses.
The need for qualified personal trainers continues to grow as the industry strives to keep pace with projected consumer demand. Businesses and insurance providers are finally recognizing the benefits of fitness programs for their employees and members, offering incentives to join gyms or other fitness facilities, leading to an increased demand for qualified personal trainers. According to the International Health, Racquet & Sportsclub Association (IHRSA), over 6.3 million Americans used personal training services in 2010, paying an average of $48.89 per session. In the US there are more than 29,000 health clubs serving over 51 million members.
NASM is recognized by major health clubs across the county. Not only do NASM CPTs work one-on-one with clients at health clubs, they can also be found working at medical centers, chiropractic offices, vacation resorts, corporate fitness facilities, recreation centers, weight loss programs, public and community health organizations, senior living communities, post-rehab and physical therapy clinics, private homes, along with sports teams ranging from amateur to professional.
Personal trainers can help turn-around our unfavorable health trends. IHRSA cited one of the reasons why health club members quit their membership, or don't even join, is that there was no one there to guide them. Add other responses such as not knowing what to do, fear of hurting themselves, and not attaining their goals, and you can see how important a role personal trainers play in helping America get fit. On the flip side, the reason why members joined and stayed was to get healthy, lose weight, have fun, reach their goals, and having access to fitness professionals. Again, personal trainers can have a far reaching impact with the services they offer in the settings they work.
A career in personal training offers the freedom other careers don't. Enjoy an active lifestyle while you help others achieve their fitness and health goals. Avoid the desk job and change the lives of others by taking the first steps toward a personally and financially rewarding career.