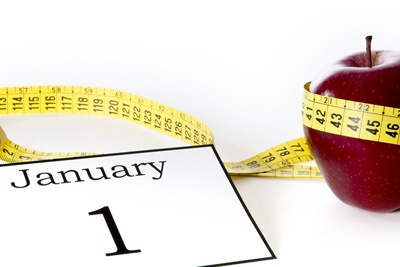 By: Meredith Butulis, DPT, NASM-CPT, CES, PES, ACSM HFS, Balance Body Pilates Certified, Life Time Academy Instructor
Are you prepared for the New Year's Resolution clients? Are they really ready to commit to the fitness and health changes they've resolved to achieve? Identifying a client's readiness to change needs to be coupled with how best to communicate with them at each stage. Read on to see what coaching strategies can make a positive difference during each stage.
Let's start with the typical fitness facility, and one type of gym member: Those with New Year's Resolutions. Back in November or December, the fitness facility ran a promotion for discounted personal training sessions. People purchased lots of sessions, not only for themselves, but also for their mom, dad, sister, brother . . .
Now it's first quarter and it's time to service all of these sessions. You run into an obstacle though; half of these people aren't really committed to achieving their goals. Many of them don't even know what their goals are. Some have vague outcome goals, but almost none of them have supporting behavioral goals and a commitment to these actions.
Your experience tells you that the gym will slow down to a normal pace again by April as all these members slowly vanish. As a personal trainer, you can accept this trend or you can try to make a difference. Here are tips for those of you wanting to make that difference!
Meet Mr. Smith
Mr. Smith bought six personal training sessions for himself during the winter promotion. He has been in and out of the gym for years. Sometimes he makes it to the gym four times in one week, but then he gets busy and doesn't make it to the gym for a week at all. His work schedule and kids keep him very busy. He does like to lift weights and run when he finds time. Overall, he's healthy, although he admits that he's gained about 10 pounds every year since his five year old was born. He bought the sessions because he would like to lose some weight and feel more energized.
Transtheoretical Model
Where do you begin? The transtheoretical model of behavior change, also known as the stages of change, can offer a great starting point for your communications with this client, and ultimately influence the short and long term coaching relationship.
While clients can move back and forth between stages, and even be in more than one stage at a time when you consider all the habits they might want to change, the model provides a valuable framework for what communications to provide and when to provide them in order to facilitate a positive outcome.
Here is a summary of each phase, behaviors that indicate presence in the phase, and proven strategies to support goal achievement (1,2):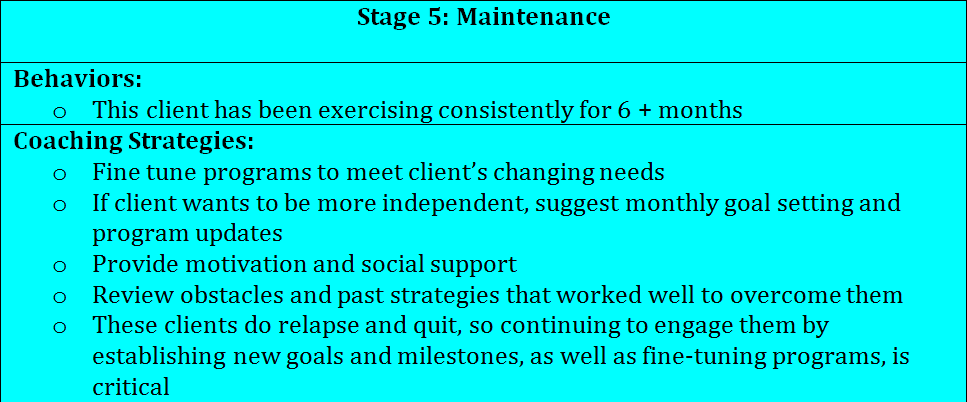 Returning to Mr. Smith
Now that we've examined the transtheoretical model, let's return to Mr. Smith. Mr. Smith's behaviors give you an indication that he's either in the preparation or action phase.
In your first meeting with him, help him establish goals and realistic time frames. Mapping out his goals and time frames on a calendar can help you both establish realistic expectations. Be sure to include vacations and business trips in the length of time needed to reach the goals. Goals need to include outcomes (results from carrying out a behavior) and supporting behavioral goals (activities the individual completely controls with their actions) (3). Be sure that your recommendations reflect appropriate physiological principles, with an average loss of 0.5% body fat/4 weeks, or average gain of 1 lb. of lean muscle/4 weeks with an optimal program (3).
Find out why he bought exactly six sessions; you know that six sessions is unlikely to provide him all of the behavior change, nutrition change, and fitness knowledge necessary to achieve his goals. However, he doesn't know this. Using questioning techniques, such as motivational interviewing, to get him to come to this realization can be very beneficial in setting the ground work for a long-term coaching relationship.
Find out what you can help him with. Often times, new clients think that personal trainers make them workout and count reps. Most new clients don't know that trainers help with behavior changes, nutrition coaching, lifestyle coaching, and various other specialty areas that help clients achieve their goals.
Find out what exercises he likes and why. This will help you meet his conditions of satisfaction when you work together in a fitness training session. For example, if he doesn't like the stability ball, then find another modality to accomplish a similar goal.
Ask Mr. Smith how he will stay accountable to meeting his goal. Be prepared to help him think of strategies in this area or assign him homework to return to you with an answer at your next session. During some of your sessions, be sure to include consideration of how his social environment is affecting his behavioral goals (Bernardi & Andrews, 2010).
Don't be afraid to ask Mr. Smith to sign a behavioral contract outlining his goals, as well as your expectations. Have him give himself a grade week by week. Discuss his self-grade and progress at your sessions. Offer him a clean slate and future focus when he does not meet agreed upon expectations (3). Focus on just a couple of key points that will make a big impact at first. For example, you might focus on two of the following:

Getting to bed 30 minutes earlier each night
Drinking four glasses of water instead of two
Completing two 30 minute jogging sessions before he meets with you next week
Recording three days of nutritional intake so you can help him with nutrition coaching

By using techniques such as questioning, active listening, summarizing, seeking affirmations, and asking permission to share possible options for solutions, see if you can find out Mr. Smith's "super why"(1). A "super why" is the deep underlying reason that Mr. Smith wants to lose the amount of weight he originally stated.
Find out how committed Mr. Smith is to the plan that you both have established. You might ask him to rate his commitment on a scale of 1-10. His answer, as well as obstacles that come up, will help establish areas for further coaching in this professional relationship. His answer will also help you re-affirm his most likely stage of change for goals you have mutually created and agreed upon.
What NOT to do and WHY
Now that we've looked at strategies to help clients, here are a few final words on what NOT to do.
Act annoyed or disinterested. Even if you have a precontemplation client for one session, that client may return to you later or tell others about their experience. Your eye contact and body language needs to indicate that you are genuinely interested in the client.
Information dump. Attempting to tell a client everything you know will not impress them. You're likely to be met with either resistance or a completely confused client.
A smoke & mirrors workout. If you use the first session to take a client through a series of impressive and fun exercises, you've lost the best chance you have to converse about the client's goals and coaching relationship. If you use all of your fancy looking exercises in your first session, the client will be looking to you for entertainment and new things at every session. If you change the exercises every session, you are very unlikely to follow proper progression of acute variables. You and the client will soon realize that the client is not achieving their health and fitness goals.
Over promise. Ultimately, clients determine whether their actions align with the behavioral goals needed to achieve outcome goals. Establish accountability and self-efficacy with your clients at the beginning of the coaching relationship instead of promising that a client will hit a certain goal weight or body fat percentage by a certain date.
In conclusion, interpreting your clients' and prospects' behaviors to time your communication strategies can greatly influence how long the New Year's Resolution members stay in your health club!
References:
Clark, MA, Lucett, SC, and Sutton, BG. (2012). NASM Essentials of Personal Fitness Training, 4th Ed. Baltimore, MD; Wolters Kluwer Health.
Gavin, J, and McBrearty, M. (2013). Lifestyle Wellness Coaching, 2nd Ed. Champaign, IL: Human Kinetics.
Andrews, R & Bernardi, J. (2010). The Essentials of Sport and Exercise Nutrition. Precision Nutrition.