Each month, we'll shine the spotlight on a different NASM Certified Personal Trainer (CPT) who's making a difference in their community.
For October, we spoke with Tyler Mahfet, a recently certified CPT. After suffering from anxiety and depression as a teenager, fitness helped him change his life.
National Academy of Sports Medicine (NASM): Tyler, what led you to become a personal trainer?
Tyler Mahfet (TM): About two years ago, I was going into my senior year of high school. I had a lot of anxiety going into this year because it was my last before my whole life was about to change.
At first, everything
was going smoothly. I was a defensive starter on the football team, I had great
grades, I was somewhat popular, I was physically fit, and I had a very
supportive group of friends and family. Life was good and everything seemed to
be going the way I wanted it to. I was truly starting to believe I had my
future figured out. I started to get super excited to finally finish my last
year of high school and head off to college.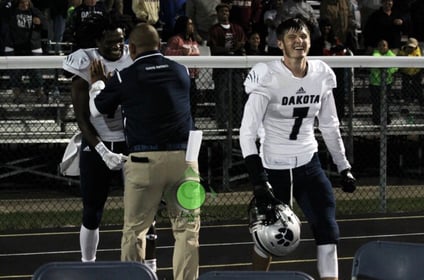 Then about a month
later, in November of 2017, my life was completely flipped upside down.
One day, I was home
alone writing an essay for my English class. Everything was going well until I
started to feel very funky. For some reason I couldn't focus on my assignment
or relax. It was almost like a feeling of anxiety, kind of like waiting in line
for a rollercoaster, or whatever makes you nervous.
It was weird to me
because there was nothing to be nervous about, but for some odd reason, I was.
As the night progressed, it got worse and worse and eventually, I had a feeling
like no other. A feeling that I almost can't explain, to be perfectly honest.
My senses were scrambled, the walls seemed to close in on me, and it felt like
I was going to die.
It turns out I had a
severe panic attack. It was a feeling I hoped to never have again. I never told
anyone about it because I was embarrassed and confused.
A few weeks later, I
had another one sitting in a movie theater with my family. Soon, I was having
panic attacks almost every day. I continued to keep them to myself for another
3-4 weeks. The attacks started to get worse and worse. I was losing hope.
Finally, after I saw
no other options, I decided to tell my parents. I was very scared and
embarrassed to tell them, but when I did, they were completely understanding
and supporting. They took immediate action to help me figure out what was going
on. We did tons of research, saw a doctor, and tried all types of herbal
supplements, and even therapy. Sadly, nothing was working for me.
A couple more weeks
went by with no progress made. As soon as I thought things couldn't get worse,
they did.
I was starting to lose hope, and therefore another funky feeling started to form. This one, however, wasn't anxiety-based, but a feeling of helplessness. I was having feelings of severe depression. I lost 15 pounds, avoided going out, and didn't have a desire for anything. The panic attacks and depression continued, and that's when things climaxed. It got to the point where I thought about taking my own life. I, the athletic, smart, and popular kid, was about to take my own life. I never thought in a million years this would have happened to me.
I told my parents
about my feelings, and that's when we decided to go see a doctor specialized in
this sort of stuff. He put me on medication and things slowly started to
progress in the right direction. Life was getting better and everything was
starting to get back to normal. I realized I couldn't be on medication forever,
so I had to find another "cure" to this problem.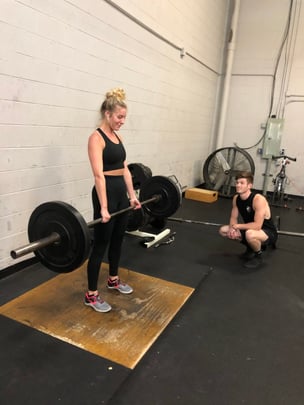 That's when I decided
to get back into the gym. I was still very underweight and lost all my strength
from when I was highly active during my years of football. This time, instead
of working out for sports, I worked out to better myself, mentally and
physically. I was still new to weight training, and to be honest, didn't really
know what I was doing, but I did enjoy it because it was a way to escape and
focus on myself.
As time went on, I started getting more serious about my health and fitness goals. I researched how to correctly perform workouts and how to build lean body mass. I was starting to feel 100% again. Fitness made me feel amazing. It truly gave me something to look forward to every day. It gave me a feeling of purpose again. I continued my fitness journey for a year and a half as I went to Macomb Community College. Everything was going so well, I completely forgot about my anxiety and depression.
Then it was time for
me to go off my medication. This was a very scary time for me because I was
worried these horrible symptoms would come back. I was, however, a lot more
confident because of my current lifestyle. As I weaned off the medication, my
feelings of happiness and joy stayed consistent.
Fitness has brought
so much happiness and positivity into my life. It has done so much for me that
I wanted to find a way to share its benefits with as many people as possible.
Therefore, I decided
to take steps toward a career in fitness. That's when I stumbled across NASM.
What better way to help people both physically and mentally than to become a
personal trainer? After a lot of thought and preparation, I decided to take on
the challenge.
NASM's program was incredible. No wonder why they are the most respected name in fitness. After a hard four months of studying, I passed my exam and became a Certified Personal Trainer. I have never been more proud of what I have accomplished and what I overcame to get to where I am at today.
NASM: This is amazing, Tyler. Your journey will resonate with several of our readers who also deal with anxiety, both in themselves, and in their clients. How is your fitness career going?
TM: My fitness career has been going great! I received my NASM certification in August, and immediately jumped on the job search. I received a lot of attention from many gyms around the area. It was incredible to be able to meet so many different people in the fitness industry and hear what their gym/company had to offer.
After a lot of searching, I was offered jobs from a variety of
different gyms. I can't lie – it was very stressful, especially when trying to
make the best decision for myself.
After a lot of thought, I decided to accept an offer from a
smaller local gym called HIIT Quarters. They welcomed me with open arms and I
truly couldn't be more thankful. I have been putting in some training hours and
plan to become one of their everyday trainers in the near future.
While working for HIIT Quarters, I also plan on building my own clientele as well. I currently train mainly family and friends so I can get quality hands-on experience. As time goes on and I perfect my training skills, I plan to broaden my clientele and hopefully change a lot of people's lives.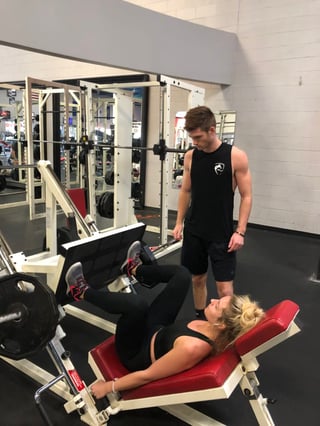 NASM: If you were just about to graduate high school two years ago, you're pretty young for a personal trainer! What's your vision for your fitness career?
TM: My goal is to bring my knowledge of both fitness and business together, and open my own gym one day to create an amazing fitness community. I truly believe fitness can have a huge impact on someone's lives and owning my own fitness brand/company can make an everlasting impact.
NASM: Do you have any words of wisdom for those who are struggling with anxiety disorders? Or for those just starting out their careers?
TM: My biggest piece of advice for those struggling with anxiety and depression is: you are not alone. There are so many people out there struggling with the same things, and it's important to find those people and support one another.
This brings me into my next piece of advice:
If you are struggling, you need to tell
somebody, whether that is a family member, a friend, a teacher, a coach, a
co-worker, the list goes on. Nobody should ever suffer alone. There is so much
support out there and it's crucial that you find it.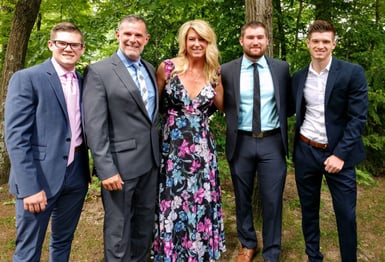 The last piece of advice I have is – it gets
better. I can 100% promise you that. I know it feels like the end of the world,
but it is not. I cannot stress enough that there is so much support and
technology out there. Please, please, find that support and I promise
everything will get better. Don't ever give up and keep on pushing through it,
because you will be so glad that you did.
To my advice for those starting their careers: I know I am young and relatively new to the fitness field, but I do know it is super important to never give up. There's going to be many ups and downs, and it is important to keep on pushing. The most successful people in this world started somewhere and never gave up. Find something you're passionate about, and make a career out of it.
NASM: Anything else you'd care to share?
TM: NASM has given me the opportunity to chase my dreams and make an impact. I want to help as many people as possible reach not only their health and fitness goals, but mental goals as well. Fitness has changed my life and NASM has given me the opportunity to change many others' lives. I hope people can find hope in my story that things do eventually get better, no matter what you are going through. I truly believe a healthy lifestyle can be the answer to many people's problems.
Now that I am an NASM Certified Personal Trainer, I can share my knowledge with others and hopefully bring happiness and positivity to others. I want to thank NASM for the opportunity they have given me. I am honored and proud to be an NASM Certified Personal Trainer!
We wish Tyler all the best as continues his fitness career. Thanks for taking the time to answer our questions, Tyler!
If you're an NASM-CPT and have a story you'd like to share, please send an email to Meiti.Prang@nasm.org.