Each month, we'll shine the spotlight on a different NASM Certified Personal Trainer who's making a difference in their community.
For August, we spoke with Daniel Stein, NASM-CPT, and founder of Special Strong, a company that helps children and adults with special needs find hope through fitness.
National Academy of Sports Medicine (NASM): Let's start with you telling us about yourself.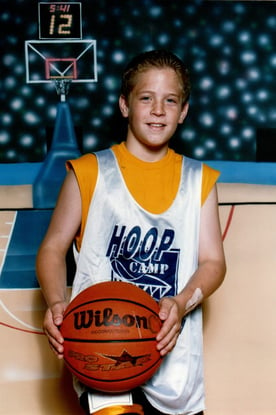 Daniel Stein (DS): My name is Daniel Stein. I was born in Florida and moved to Texas when I was a year old, and I've lived in Texas ever since. I have two younger brothers, Andrew and Matthew.
When I was four years old, I was diagnosed with ADHD and started being treated with medication. While the medication helped, I continued to struggle throughout school with behavior challenges and needed special accommodations to complete my assignments.
I got made fun of from other students for being "different" and so I didn't have many friends or fit into any specific groups. Having ADHD also meant that I struggled with hyperactivity, so from an early age, my parents knew that I needed an outlet. My parents got me started in different sports programs and noticed a clear difference in my behavior and moods when I was active.
NASM: When did your parents begin investing in your exercise?
DS: To help during the summer and when sports weren't taking place, they got me a membership at the YMCA, where I would bike two miles one way to get to the gym to exercise at the age of 13. My parents saw how much I enjoyed exercise and how much it was helping me, so a few years later they decided to buy me some equipment for the garage, consisting of adjustable dumbbells, an adjustable bench, and a 15 lb. barbell with a rack. I would consistently work out every single day, sometimes both at the YMCA and in my garage in one day.
As I started to become more self-aware, I noticed how much it was helping me in my own life with my moods, focus, and anxiety. I was drawn to exercise because of how much it helped me. When I graduated high school and had a lot of free time on my hands, it started to become a part-time hobby for me, where I would read fitness books, magazines, and articles to enhance my workout experience and adapt fitness for my needs.
NASM: When did you decide to take fitness seriously and get certified as a trainer? And why did you choose NASM?
DS: As I was learning more and more about fitness, I knew that I wanted to do something related to fitness for the rest of my life. The truth was I didn't think I would ever be able to do anything with it because of challenges with ADHD. I ended up working in retail for many years and eventually landed a job in banking.
During my career as a banker, I was being mentored by Rob Moore from my church. On November 11 of 2011, Rob and I met at Starbucks. Rob sat down with me and shared with me a vision he had for my life that consisted of me becoming a personal trainer to work with the special needs population.
For the first time in my life, I felt like I had a chance to pursue my dreams because someone believed in me. I immediately looked into personal training, did tons of research, and eventually became certified through NASM due to their reputation and high success rate. While working full-time at the bank, I got a part-time job at a local gym to gain experience.
One day at the bank, two people came in to open up a nonprofit business account to do adapted fitness for special needs, and I was the only banker available to help them at the time. As we sat down, I shared with them the vision Rob had on 11.11.11 and they decided they wanted to partner with me. As a result, they paid me to work with Dakota, my first special needs client who was a paraplegic from a drug overdose incident. I came to life when I was working with Dakota, and I knew that I had to help others like him.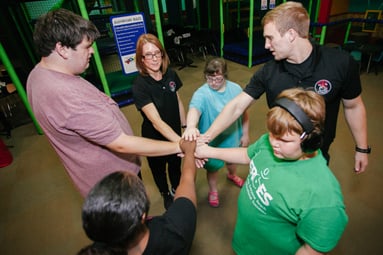 I quickly realized that there were no special needs gyms for people like Dakota, and I was burdened to do something about it, but I didn't know where to begin. I decided it was time for a career change into health and fitness, so I left full-time banking to go manage a weight-loss center.
Three months later, the center shut down and I was left jobless. I had recently gotten married, so my wife and I ended up moving in with her parents in a very small town of a population of 3,000 to give me time to find a job and save money. After moving in with them, I learned that there was a small mom and pop gym down the road. I met the owner and he told me I could do personal training there, but I had to generate all my own clients. Starting with the "A" s, I called every single member of the club until there was no one else to call. Within 3 months, I was training 30 hours a week.
A year later, we ended moving out of her parent's house and getting our own home in McKinney. I decided to go into corporate fitness and got a job at Lifetime Fitness. I also kept a few select clients who followed me to another nearby gym where I was able to train privately. One of the clients who followed me was Michelle. Michelle saw how hard I worked and she knew my dreams, and she said I needed to meet her husband, Josh. Josh decided to invest his time into me and help me develop a business plan for my business working with special needs. He even came up with the company name, Special Strong. I continued working full-time at Lifetime Fitness, managing part-time private clientele, and developing Special Strong on the side with Josh.
After one year with Lifetime, I became at top 5% trainer (out of 3,700 trainers) and they decided to put me through their leadership program. Towards the end of the leadership program, I was faced with a difficult choice: grow and climb the corporate ladder at Lifetime Fitness or leave and launch Special Strong.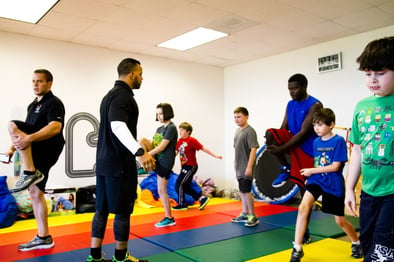 After much prayer, I decided to leave Lifetime and launch Special Strong. After leaving Lifetime, all I had was a few private clients, my wife's small salary, a home, and two cars to pay for. I ended up going public with Special Strong, not knowing what was going to happen. I would continue to go to Josh for advice on marketing and business-related questions and I did everything he said.
Within one year, we had a waiting list for our services across several cities in North Texas. We ended up partnering with other small gyms that allowed us to pay rent in exchange for the use of their facility. We became experts on digital marketing and SEO, which has helped people find out about our local services and our online special needs certification all over the world.
NASM: It seems like every day for you must be a rewarding experience. Can you tell us about one of your biggest success stories regarding one of your clients?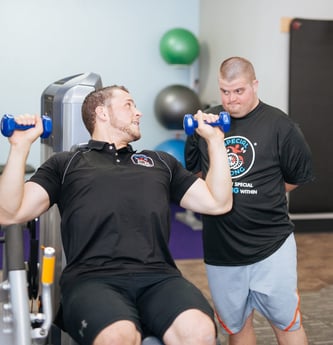 DS: We have hundreds of success stories in our program. One of our biggest success stories is with Josh, who was diagnosed with Down syndrome. When Josh started with us, he was overweight, had low muscle tone, and was extremely depressed. He had to un-enroll from horseback therapy because his core and endurance were regressing so much.
After one year into our program, Josh was able to independently ride horses for the first time in his life. At the age of 28, he got his first job due to the independence he gained from our program. He lost about 20 lbs. and gained lean muscle. My words can't do his story any justice – watch the two-minute video of Josh and his mom sharing their story.
NASM: Tell us more about Special Strong's Corporate Boot Camps.
DS: We used adapted fitness in our Special Strong boot camps to serve other service providers in North Texas. Our company has numerous contracts with therapy centers that hire us to come out weekly or monthly to provide our services to their clients in a group setting. Typically, a group consists of 10-15 individuals that we put through five unique stations. We teach about these five stations and how others can start their own group classes through our online special needs certification program at www.certifystrong.com.
NASM: Reading through your website, it says you have a waiting list. Is that still true? How many employees do you currently have now?
DS: There is a huge need for our services. The sad reality is that there are no special needs gyms where individuals can go to for adapt fitness training. We have a waiting list for 13 cities in Texas and have had people ask about us in at least 10 others states. One of our greatest challenges is finding high caliber certified personal trainers. We currently have eight certified personal trainers. In 2019, we launch our special needs certification so that other trainers and service providers can help meet this need.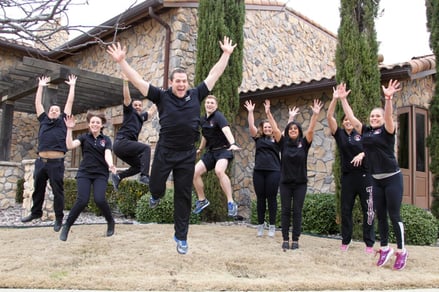 NASM: What's your ultimate goal for Special Strong?
DS: My ultimate goal is to go global. There's a huge lack of resources available for special needs adapted fitness. Our model is virtual and has very little overhead, so our expansion is primarily limited by finding quality trainers. At some point, we may open a special needs gym that offers adapted fitness and equipment for special needs.
NASM: You've obviously found success through hard work and discovering an untapped niche market. Do you have any words of wisdom for trainers who are just starting out?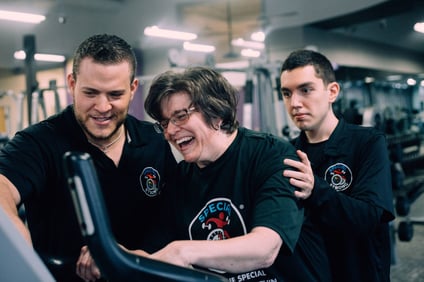 DS: My word of advice for trainers just starting out is to find out your "why" and write it down. If you are like me and have to take a 48 hour sabbatical to clear your mind - do whatever it takes. I recommend a book by Simon Sinek called "Start with Why." It's true that I've seen a lot of success, but there were many times that I wanted to quit and leave the industry for various reasons. The one thing that kept me in the game was my why. In case you wondered what my why is, it comes from a verse in scripture that reads, "I came that they may have life and that they might have it more abundantly."
When I wanted to quit, I would remind myself that I was called to help others experience abundant life using fitness as a tool. When I found success, my why saved me from becoming profit driven and staying people driven. It's all about your why.
All of us at NASM wish Daniel continued success with Special Strong, and we hope he keeps changing lives for the better through fitness. Thanks for answering our questions, Daniel!
Do you know someone who might be worthy of a Q&A with a CPT? Tell us about him/her here by emailing Meiti.Prang@nasm.org. (The only requirement is that this person must be an NASM-CPT.)