In the garden and on the shelves, strawberries are the spotlight of spring. Easy to grow and good for you, see what these nutritional gems have to offer!
Strawberries (Fragaria ananassa) are a bright red fruit with a juicy texture, characteristic aroma and sweet flavor. They originated in Europe in the 18th century.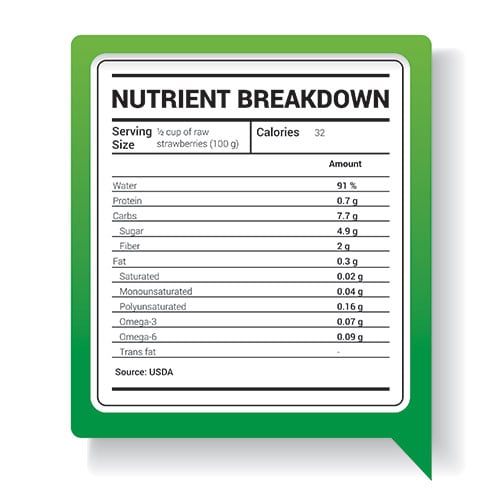 Health Benefits
A number of studies have found a favorable association between the consumption of diets rich in fruits and vegetables and a lower risk for chronic diseases including cancer and cardiovascular disease. If you are a nutrition consultant, coach your clients to eat more of them!
The mechanism behind the health-promoting effects of these plant foods has been attributed to phytochemicals, which are bioactive compounds having antioxidant and anti-inflammatory properties. Bananas are also a fruit with similar health properties.
The most abundant phytochemicals found in strawberries are ellagic acid and the flavonoids anthocyanin, catechin, quercetin and kaempferol.
The antioxidants found in strawberries can help lower the risk of cardiovascular events through the inhibition of LDL-cholesterol oxidation, promotion of plaque stability, improved vascular endothelial function, and decreased tendency for thrombosis.
As an anti-inflammatory, strawberry extracts have been shown to inhibit COX enzymes, which modulate the inflammatory process.
Other compounds in strawberries have demonstrated anticancer activity by blocking the initiation of carcinogenesis and suppressing the progression and proliferation of tumors.
Lastly, some studies have shown that diets rich in strawberries may have the potential to provide benefits to the aging brain.
(Hannum, S. M. 2004) (Meyers, K. J., et al. 2003)
Local, Seasonal, Organic
While there is some controversy regarding the nutritional quality of organic vs conventional produce, there is research showing that the pesticides used on non-organic produce can have adverse affects on one's health by causing endocrine disruption. The endocrine-disrupting chemicals (EDCs) in pesticides have also been shown to be obesogens, foreign chemical compounds that can disrupt lipid metabolism and lead to obesity.
When it comes to strawberries, preferably try to eat locally sourced (which also means in season) and organic. In the winter, you can opt for organic berry blends to use in smoothies.
(Holtcamp, W. 2012) (Mnif, W. et al. 2011)
Here are some tasty strawberry recipes to explore!
Power Strawberry Smoothie
1 cup water or milk (unsweetened almond, coconut or dairy)
1 cup fresh or frozen strawberries
1 banana
1 cup raw spinach
1 Tbsp ground flaxseeds
25 g whey protein powder (vanilla, cold processed, microfiltered, non-rBGH isolate/concentrate, stevia sweetened)
Blend until smooth. Enjoy!
Greek Treat
1 container of Greek-style yogurt (plain, full-fat)
½ cup fresh, sliced strawberries
2 Tbsp raw or lightly toasted pecans or walnuts
Drizzle of honey on top (optional)
Paleo Strawberry Almond Crisp
Serves 6
Ingredients
4 cups fresh strawberries, halved
2 Tbsp arrowroot powder
2 tsp vanilla extract
1 Tbsp fresh lemon juice
1 Tbsp honey
For the Topping
1 cup almond flour (I use Trader Joe's or grind my own)
½ tsp fine sea salt
3 Tbsp extra virgin coconut oil
3 Tbsp honey
Directions
Preheat oven to 350°F and place a rack in the middle
In a large bowl toss halved strawberries, arrowroot powder, vanilla extract and honey. Set aside
In another bowl mix together almond flour and salt, then add in honey and coconut oil until the mixture begins to form crumbs. Set aside
Grease a 9-inch baking pan
Scrape the strawberry mixture into the baking pan, spread evenly
Spread the topping over the fruit in an even layer
Bake in the oven for about 25 minutes or until the topping has browned
Remove from the oven and allow to cool 10 minutes before serving
Top with Greek yogurt or Coconut Bliss ice cream
References
Hannum, S. M. (2004). Potential impact of strawberries on human health: a review of the science. Critical reviews in food science and nutrition, 44(1), 1-17.
Holtcamp, W. (2012). Obesogens: An Environmental Link to Obesity. Environmental Health Perspectives, 120(2), a62–a68. http://doi.org/10.1289/ehp.120-a62
Mnif, W., Hassine, A. I. H., Bouaziz, A., Bartegi, A., Thomas, O., & Roig, B. (2011). Effect of Endocrine Disruptor Pesticides: A Review. International Journal of Environmental Research and Public Health, 8(6), 2265–2303. http://doi.org/10.3390/ijerph8062265
Meyers, K. J., Watkins, C. B., Pritts, M. P., & Liu, R. H. (2003). Antioxidant and antiproliferative activities of strawberries. Journal of Agricultural and Food Chemistry, 51(23), 6887-6892.