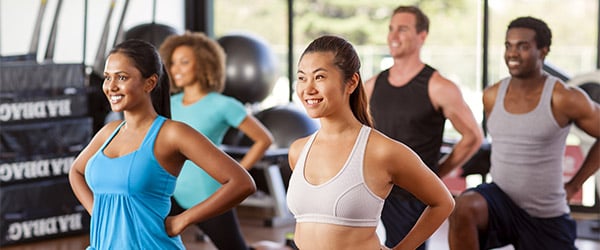 For some of the top New Year's resolutions, the benefit of incorporating exercise to achieving the goals seems obvious. But for others, the connections are just now coming to light.
Here are some of the top New Year's resolutions, from losing weight to falling in love, and how exercise helps (1,2).
Losing weight
Exercise can help with weight loss efforts and maintenance (3,4). Aerobic activities are powerhouses when it comes to burning some of those excess calories, and high-intensity interval training (HIIT) can keep the calories torching long after a session is complete. Resistance training is also key to building and maintaining your metabolically active lean body mass (4). The stabilization endurance training phase of the NASM Optimum Performance Training ™ (OPT ™) model is a great place to start with clients who have weight loss goals. This phase forces the body to recruit more muscles to stabilize it (in addition to the higher repetitions and circuit design), and in doing so, more calories are potentially burned (5).
But you can't out exercise a bad diet.
Eating healthier
Some studies link exercise to healthier diet choices (6,7). It could also be influencing perceptions of hunger by decreasing appetite after exercising, for both aerobic and resistance activities (8). One drawback to the exercise diet connection is that many people often assume they are burning more calories than they actually are and justify eating more-which doesn't bode well with weight loss efforts.
Fall in love
We're not sure that exercise will actually help you fall in love (and how would you make that a SMART goal?) but it can help you increase your self-esteem and libido (9,10). This perk goes for both men and women. For women, it seems that exercise has even more of a positive impact on satisfaction with 20 to 30 minute exercise sessions prior to sexual activity (10).
Stop smoking
For those trying to kick the habit, exercise can have a protective effect against relapse and makes nicotine withdrawal a little easier to manage (11). And since smokers typically have lower rates of physical activity compared to non-smokers (along with less healthy diet patterns), adding exercise to the plan can lower the risk for COPD and other chronic health conditions related to inactivity (12).
Make more, save more
Want a raise? Try exercising! Workers who regularly exercised saw a 6 to 10% wage bump over workers who don't pump the weights or hit the cardio (13). On top of that, workers who exercised in the morning before their work day or during their lunch were less stressed, happier, and more productive-definitely things that would catch the bosses attention when it comes to raises or promotion opportunities (14)! Many employers are also offering incentives to get active and improve biometric scores, thus lowering their benefit costs and your contributions, keeping more money in your pocket!
Learn something new
Consider exercise a form of grown-up recess. Adding exercise, especially aerobic type exercise, to your learning pursuits has been shown to improve attention, reading comprehension, and even a boost to the areas of the brain responsible for memory (15,16). And an extra benefit, remembering a good workout could spur the motivation for future workouts (17).
Reduce stress and enjoy life more
Exercise not only boosts your health but helps to reduce stress and anxiety (18). Whether it's seeking a runner's high or just a flush of fresh blood and oxygen to clear your head, a bout of activity can give you a new perspective. There's even a postural connection to mood and depression. Postural traits commonly associated with depression include forward head flexion, increased thoracic kyphosis, rounded shoulders whereas it is easier to create positive thoughts and feelings in a more upright posture (19). (Put the NASM Corrective Exercise Specialization to work to address postural issues, such as upper crossed syndrome, that may be derailing happiness.)
When you hear people talking about their resolutions (AKA: goals), consider how you could help them in their pursuits by incorporating exercise into their journey.
References
"Popular New Year's Resolutions." Popular New Year's Resolutions. USA.Gov, 14 Nov. 2014. Web. 18 Dec. 2014. https://www.usa.gov/Citizen/Topics/New-Years-Resolutions.shtml.
"New Years Resolution Statistics." Statistic Brain RSS. University of Scranton. Journal of Clinical Psychology, 1 Jan. 2014. Web. 17 Dec. 2014. https://www.statisticbrain.com/new-years-resolution-statistics/.
Curioni CC, Lourenço PM. (2005). Long-term weight loss after diet and exercise: a systematic review. International journal of Obesity, 29(10):1168-74.
Jabekk P, Moe I, Meen H, Tomten S, Hostmarl A. (2010). Resistance training in overweight women on a ketogenic diet conserved lean body mass while reducing body fat. Nutrition & Metabolism, 7:17.
Clark MA, Sutton BG, Lucett SC, (2014). NASM Essentials of Personal Fitness Training, 4th Edition, rev. Burlington, MA, Jones and Bartlett Learning.
Dallongeville J, Marecaux N, Fruchart JC, Amouvel P. (1998). Cigarette smoking is associated with unhealthy patterns of nutrient intake: a meta-analysis. The Journal of Nutrition, Sep;128(9):1450-7.
Boutelle KN, Murray SM, Jeffrey RW, Hennrikus DJ, Lando HA. (2000). Associations between exercise and health behaviors in a community sample of working adults. Preventive Medicine. March, 30(3) 217-224. doi:10.1006/pmed.1999.0618
Broom DR, Batterham RL, King JA, Stensel DJ. (2009). Influence of resistance and aerobic exercise on hunger, circulating levels of acylated ghrelin, and peptide YY in healthy males. American Journal of Physiology-Regulatory, Integrative and Comparative Physiology, Jan;296(1):R29-35. doi: 10.1152/ajpregu.90706.2008. Epub 2008 Nov 5.
White JR, Case DA, McWhirter D, Mattison AM. (1990) Enhanced sexual behavior in exercising men. Archives of Sexual Behavior, 19(3)193-209.
Lorenz TA, Meston CM. (2014). Exercise improves sexual function in women taking antidepressants: results from a randomized crossover trial. Depression Anxiety, 31:188–195. doi:10.1002/da.22208.
Bernard P, Ninot G, Moullec G, Guillaume S, Courtet P, Quantin X. (2013). Smoking cessation, depression, and exercise: empirical evidence, clinical needs and mechanisms. Nicotine and Tobacco Research, 15(10):1635-1650.
Furlanetto KC, Mantoani LC, Bisca G, Morita AA, Zabatiero J, Proença M, Kovelis D, and Pitta F. (2014). Reduction of physical activity in daily life and its determinants in smokers without airflow obstruction. Respirology, 19: 369–375. doi: 10.1111/resp.12236.
Kosteas, Vasilios D. "The Effect of Exercise on Earnings: Evidence from the NLSY," Journal of Labor Research, 33 (2012), 225-250.
Coulson JC, McKEnna J, Field M. (2008) Exercising at work and self-reported work performance. International Journal of Workplace Health Management, (1):176 – 197.
Tine MT, Butler AG. (2012). Acute aerobic exercise impacts selective attention: an exceptional boost in lower-income children. Educational Psychology, 32(7): 821. doi:10.1080/01443410.2012.723612.
Brinke LF, Bolandzadeh N, Nagamatsu LS, Hus CL, Davis JC, Miran-Khan K, Liu-Ambrose T. (2014). Aerobic exercise increases hippocampal volume in older women with probable mild cognitive impairment: a 6-month randomised controlled trial. British Journal of Sports Medicine. doi:10.1136/bjsports-2013-093184.
Biondolillo MJ, Pillemer DB. (2014). Using memories to motivate future behaviour: an experimental exercise intervention. Memory, (1) doi: 10.1080/09658211.2014.889709.
Asmundson GJG, Fetzner MG, DeBoer LB, Powers MB, Otto MW and Smits JAJ. (2013). Let's get physical: a contemporary review of anxiolytic effects of exercise for anxiety and its disorders. Depression Anxiety, 30: 362–373. doi: 10.1002/da.22043.
Canales J, Cordas T, Fiquer J, et.al. (2010). Posture and body image in individuals with major depressive disorder: a controlled study. Revista Brasileira de Psiquiatria, 32(4)375-380.