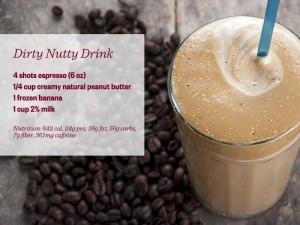 Friends told Ben Pulver, NASM-CPT and personal chef in the Detroit area, about the amazing banana smoothies they tried during a trip to Puerto Rico. Ben created this version to use on long-distance runs: "The balance of carbs, protein, and fats, along with the caffeine kick, really helps me on runs (or other workouts) longer than an hour," he says. He admits that the drink packs a punch in terms of calories and fat, but it gives a great boost on super-active days.
Ingredients
4 shots espresso (6 oz)
1/4 cup creamy natural peanut butter
1 frozen banana
1 cup 2% milk
Combine all ingredients, and blend until smooth.
Per serving: 642 cal, 24 g pro, 38 g fat, 56 g carbs, 7 g fiber, 361 mg caffeine