The all new Certified Personal Trainer (CPT) program from NASM has arrived, and we couldn't be more excited to introduce it to you! Having been completely redesigned from the ground up, the new program not only readies members to take the accredited certification exam, but it provides a roadmap for successful entry into a career in the fitness industry and beyond! This is accomplished through a number of industry-ready features that will translate the scientific concepts of health and exercise sciences into practical application.
Focus on Application
Each unit of the online study program comes equipped with real-world case studies, client observation videos for critical reflection, and video demonstration lectures on how to properly cue and correct client's exercise form and performance. Furthermore, the incorporation of real life application doesn't stop with the online content—it has been woven throughout the entire program and textbook, so that the science is always supported with concrete techniques that can be used with clients every day.
The Three Pillars of a Successful Fitness Professional
What also makes this all-new program special is the fusion of the three pillars of a successful fitness professional: science, service, and sales. Through extensive interaction with leaders in the fitness industry, a large point of concern became clear: fitness managers continue to have difficulty finding and retaining fitness professionals that not only are skilled trainers, but are savvy in client acquisition and retention. Knowing the science leads to passing the certification exam, but being skilled in sales and customer service will get clients in the door and earn their business.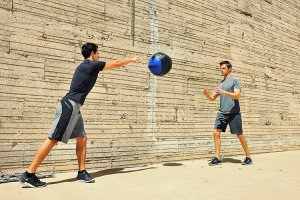 To address this concern, two full chapters have been dedicated to discovering career opportunities within personal training and the allied health professions, to include tips on resume writing, job hunting, and interviewing. Also, an entire chapter is devoted to honing sales techniques for client acquisition, while showing how to integrate science and service concepts to make the sale and build a book of business. All-in-all, we take anyone with a passion for fitness and dynamically provide them with every tool needed to not only begin a career in the fitness industry, but to prosper in that career!
Ready to get started? Click here to view the new NASM-CPT Programs.